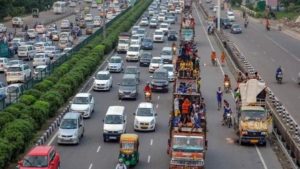 Nearly 5,000 Tickets Are Issued By Delhi Police Every Day In New Delhi After New Motor Vehicles Act Came Into Effect
Since the new motor vehicles act came into effect, the Delhi Police have issued around 4000-5000 tickets per day for motorists who disobey the traffic law.
The Delhi police said they issued 254 tickets for drunk driving, 1229 tickets for not wearing seatbelts, 4097 for not wearing a helmet, 1527 for dangerous driving, and 2698 tickets for red-light violations.
The Delhi Police said the traffic officers are handing out around 4000 to 5000 tickets per day to motorists who disobey the law.
The new Motor Vehicles Act, which came into effect on September 1, 2019, has Rs. 1000 to Rs. 2000 in the penalty for people who drive without having proper insurance papers, and if you get caught for the second time, you will have to pay Rs. 4000.
If you are caught not wearing a seatbelt, you are drunk, involved in dangerous driving, over-speeding, running through a red light, or driving without a license, you will face higher penalties and even jail time.
If a person gets caught not wearing a helmet in New Delhi, he/she will have to pay Rs. 1000 in fine and will have their licenses suspended for 3 months.
The harsher laws of the Delhi Government came into law with the hopes of increasing the safety of the motorists and the residents of the capital state.