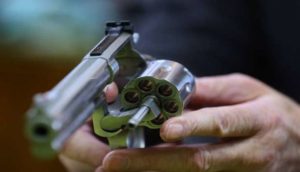 Scolded For Taking Friend's iPad, 18-Year-Old Indian Shoots Himself With Father's Licensed Gun
Ramban, Punjab: An 18-year-old student decided to shoot himself with the licensed gun of his father, who is a jeweler, after his father scolded him for taking an iPad of his friend.
18-year-old Ranveer Singh, who was studying in Class 12, shot himself in the head.
The teen was living with his parents in Sultanpind, a village in Amritsar.
Preliminary investigations revealed that the boy shot himself on his head, near Ramsoo, an area near the Jammu-Srinagar National Highway on the evening of October 12, 2019.
The 18-year-old boy was rushed to a local hospital, where he was declared dead upon arrival.
According to Javid Iqbal, the Station House Officer of the Ramsoo Police Station, the 18-year-old boy left his house on Saturday afternoon by saying he was going to go on a tuition class.
On the morning of October 12, 2019, the teenager was scolded by his father for taking an iPad from a friend.
Further investigation has been launched, and an autopsy was done on the body of the 18-year-old teen.
The body of Ranveer Singh has been handed over to his family so they could do the last rights.