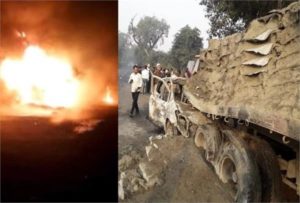 Uttar Pradesh: Car Catches Fire After Collision, 5 Members Of A Family Charred To Death
Etah, Uttar Pradesh: 5 people were brutally killed in a serious accident that happened on the morning of November 23, 2019, after a car was hit by a speeding truck.
According to reports, 5 people were charred to death and 1 person was injured after their car was hit by a speeding truck.
The accident reportedly happened near Himmatpur in Nidhauli Kalan Block.
The speeding truck hit a Maruti Suzuki Swift sedan, which later caught fire.
The truck was carrying cement and it hit the vehicle by 4:30 am on November 23, 2019.
5 people, which include a woman and 2 children, were charred to death in the accident.
15-year-old Varsha, a victim, got lucky after she was thrown out of the car when a door opened in the accident.
The victims have been identified as 36-year-old Santosh Katheria, 35-year-old Vimbla Katheria, 10-year-old Luvkush, 40-year-old Bablu, and 12-year-old Chandra Shekhar.
The 15-year-old girl was rushed to a hospital in Agra, Uttar Pradesh.
Sunil Kumar Singh, the Senior Superintendent of Police, was passing by the area when the incident happened.
Officer Singh called in other officials and the survivor was rushed to a hospital.
The current condition of the 15-year-old girl is still unknown.