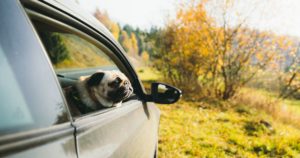 Canadian Woman Tells The Police "The Dog Was Driving" After Her Vehicle Was Found In A Ditch
A woman from Canada is throwing her own pet dog under the bus and social media users are not having any of her say.
The woman that we are talking about is from Vancouver Island, Canada.
She recently told the authorities that her dog was driving her vehicle after her vehicle was found in a ditch.
Yes, she said that.
On December 1, 2020, the Comox Valley RCMP said that they received a report of a vehicle that had been driven into a ditch on Lazo Raod in Camox.
An investigating officer that rushed to the scene found a woman and her dog there.
During the questioning, the woman told the police officer that it was just her and her pet inside the car when it crashed into the ditch.
She then told the officers that her pet dog was the one that was driving the car.
The RCMP officer believed that the woman was intoxicated when the crash happened.
The officer "quickly developed the opinion that this woman's ability to operate her motor vehicle was affected by alcohol."
Not only that, but the woman also refused to provide a breath sample at the scene.
As a result of the actions, the woman was issued 90-day immediate roadside probation.
Just people doing stupid things when they're drunk.
No one was severely injured in the incident, said the authorities.
What are your thoughts about this incident? Let us know what you think about this by leaving a comment in the comments section below!