Alagba The 344-Year-Old "Oldest" Tortoise In Africa Has Passed Away
Lagos, Nigeria: Alagba, the 344-year-old tortoise, who is also considered as the older tortoise in Africa, has passed away.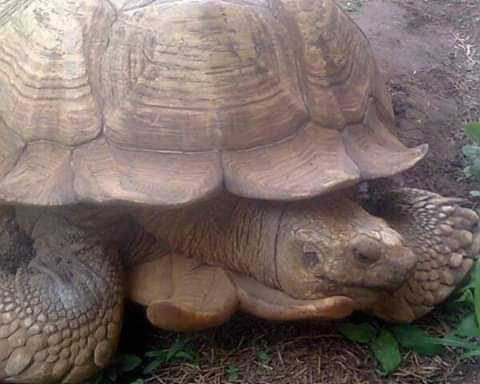 Alagba was living with King Jimoh Oyewunmi, a traditional ruler of Ogbomosho, Southwest Nigeria, and has been living with the royal family for centuries.
According to Toyin Ajamu, the personal aide of King Jimoh Oyewunmi, Alagba passed away after being sick for a brief amount of time.
Alagba is considered as the oldest tortoise in Africa.
Ajamu claims, "Alagba lived in the palace for centuries. The tortoise played host to many monarchs in Ogbomoso in the past."
Ajamu said Alagba was brought into the palace by Isan Okumoyede, the third ruler of their town, hundreds of years ago.
Ajamu said, "Oftentimes, Kabiyesi (the king) shares great moments with Alagba. On a daily basis, Alagba, had tourists visiting her from different parts of the world."
According to reports, there were 2 workers in the palace of King Jimoh Oyewunmi who were tasked to take care of Alagba.
Not everyone agreed with the fact that Alagba was 344 years-old, especially Yomi Agbato, a veterinary doctor from Lagos.
Yomi said, "I seriously doubt if Alagba was 344 years old before it died."
Yomi added the average age of tortoises is only around 100 years.
John Wilkinson, a professional Herpetologist and an expert in reptiles, also didn't believe that the tortoise was over 300 years-old.
John said, "I would have thought that it would be unlikely in the extreme. They just don't live that long. Any other tortoise lives between 70-80 years old, maximum 100."
Ajamu, the spokesperson of King Jimoh Oyewunmi, said Alagba had "healing powers".
Many people who had spiritual problems and were in contact with Alagba were cured and were helped.
The oldest tortoise in the world is Jonathan, he is 187-years-old and is a giant tortoise who lives in St. Helena.