Best Friendship Day Quotes, Wishes, SMS, Messages | Happy Friendship Day Whatsapp FB Status Updates For Friends
It's Friendship Day & Friends are the part of life, no human can ever live happily on this planet without a friend. The essence of true friendship never leaves the soul and Friendship Day celebrates exactly that. Mother, father or any family member may be a good friend of you. The first Sunday of August dedicated to the eternal bond of trust and love and people celebrate the day by exchanging gifts, cards, and flowers with the special person.
The tradition of dedicating a day in honor of friends began in the US in 1935. Gradually the festival gained popularity and today Friendship Day is celebrated in a large number of countries including India.
On This day people spend time with their friends and express love for them. If you're not with you friends right now, then send these beautiful collections of Best Friendship Day Quotes, Wishes, SMS, Messages, Greetings to your friends.
Read: History & Origin Of Friendship Day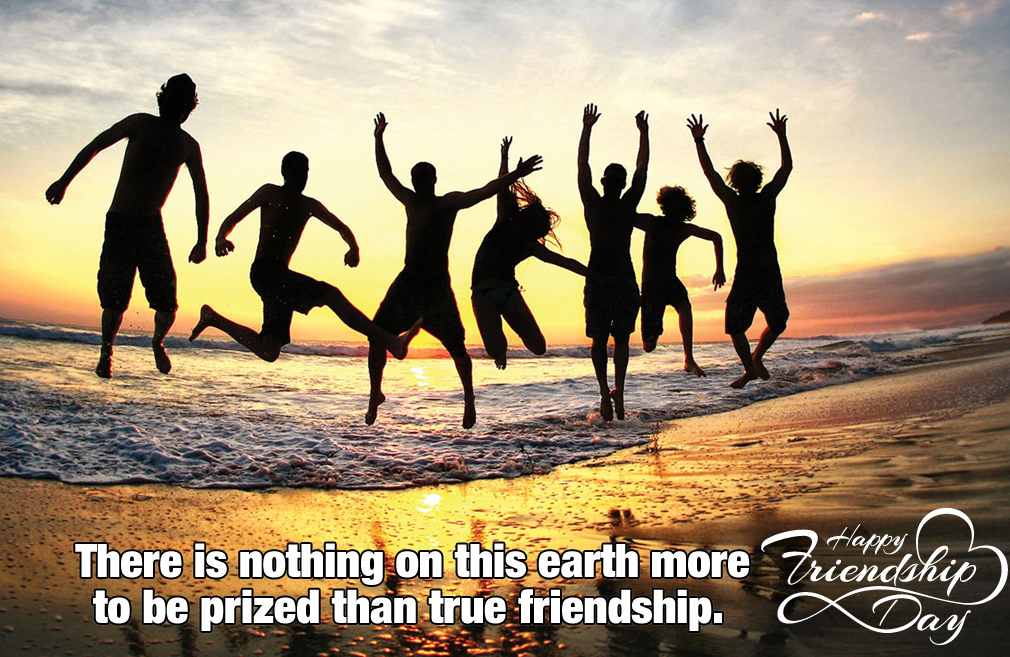 Best Quotes on Friendship Day:
Lots of people want to ride with you in the limo, but what you want is someone who will take the bus with you when the limo breaks down. — Oprah Winfrey
Friendship… is not something you learn in school. But if you haven't learned the meaning of friendship, you really haven't learned anything. – Muhammad Ali
A true friend never gets in your way unless you happen to be going down. – Arnold H. Glasgow
The real test of friendship is can you literally do nothing with the other person? Can you enjoy those moments of life that are utterly simple? – Eugene Kennedy
One measure of friendship consists not in the number of things friends can discuss, but in the number of things they need no longer mention. – Clifton Fadiman
If you live to be 100, I hope I live to be 100 minus 1 day, so I never have to live without you. – Winnie the Pooh
Friendship Day SMS Wishes Messages in Hindi: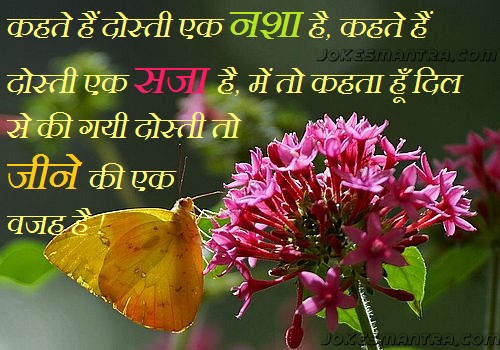 चाँद की दोस्ती, रात से सुबह तक.
सूरज की दोस्ती, दिन से शाम तक.
हमारी दोस्ती पहली मुलाक़ात से आखरी सांस तक..
Happy friendship day
Aaso Apke Aaye To Aankhe Meri Ho,
Dil Aapka Dhadke Dhadkan Meri Ho.
Khuda Kare Hamari Dosti Itni Gehri Ho, KI
Nokari Aap Kare Aur Salry Meri Ho. ?
Teri dosti mein khud ko mehfooz maante hain,
Hum doston mein tumhe sabse azeez maante hain.
Teri dosti ke saaye mein zinda hain,
Hum to tujhe khuda ka diya hua tabeez maante hain…
Aansu pochkar jisne Hsaya h mujhe..
Meri galti par b seene se lgaya h mujhe..
Kese pyar n ho aise Dost se..
Jiski dosti ne jeena sikhaya h Mujhe..
Teri dosti mein khud ko mehfooz maante hain,
Hum doston me tumhe sabse azeez maante hai.
Teri dosti ke saaye mein zinda hain,
Hm to tujhe khuda ka diya hua tabeez mante hai.
Happy Friendship Day SMS Messages Funny: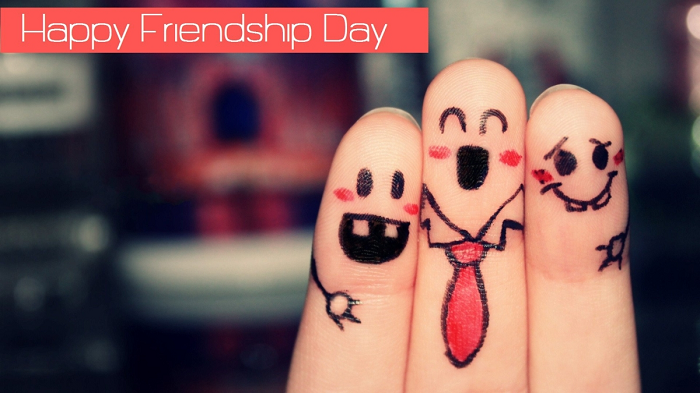 Good FRIENDS CaRE for each Other..
CLoSE Friends UNDERSTaND each Other…
and TRUE Friends STaY forever
beyond words,
beyond time
Happy Frienship Day
The relation between one heart and another heart is called love,
but the relation between heart and heartbeat is called Friendship
Happy Friendship Day
A good friend would bail you out of jail but your best friend would be the one sitting next to you saying, damn that was cool.
A coin is easy to earn, a friend is hard to find. The coin depreciates but a friend appreciates. I lost a coin when I smsed u, but it's okay because I got u.
Happy Friendship Day Wishes Greetings for Friends: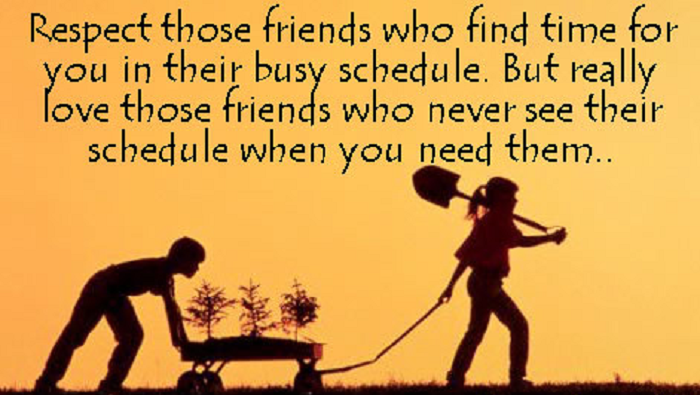 FRIENDSHIP is like a tree…
It is not MEASURED on how TALL it could be,
but is on how DEEP the ROOTS
HAVE GROWN…
HAPPY FRIENDSHIP DAY!!!
Friendship is blessed on trust, without it there is nothing. A true friend sees the first tear, catches the second and stops the third. It is better to live alone. There is no friendship with a fool.
If U need a friend and there are a
hundred steps between us, you can
take the 1st step to get near me
and i will take all 99 step to be there for you.
HAPPY FRIENDSHIP DAY!!!
What is a friend?
She looks out 4 u, inspires u,
laughs with u, cries with u, understands u,
guides u and walks with u.
That's what a friend is… u.
Happy Friendship Day Whatsapp FB Status Updates: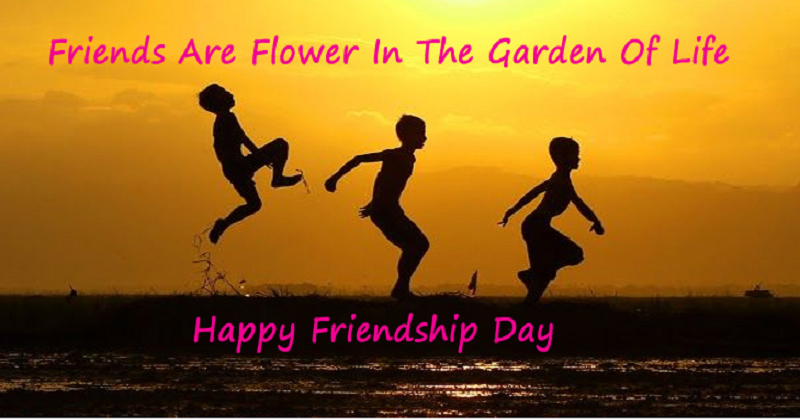 Dear Friend, When I ask you a flower, You give me a bouquet. When I ask you a stone, You give me a statue. When I ask you a feather, You give me a peacock.
My friend told me: Are you really deaf?
And I answered : Of course, I am deaf when my friend needs my eyes for herself. ?
It's not an achievement to make 100 friends in a year, but an achievement is when you make a friend for 100 years. Happy Friendship Day
Our body is very wisely designed. We can neither 'pat' our own 'back' nor 'kick' our own 'ass' – for it, friends are needed!
Best friends are there for you even if you refuse to talk to them. Because they know, deep down, the silence is killing you.
Happy Friendship Day Quotes In Spanish:
La única manera de tener un amigo es ser uno. Feliz Día de la Amistad La verdadera
amistad llega cuando el silencio entre dos personas es cómodo Feliz Día de la Amistad
Todavía no hay una palabra para los viejos amigos que acabas de conocer Feliz Día de la
Amistad En última instancia, el vínculo de toda compañía,
ya sea en el matrimonio o en la amistad,
es la conversación Feliz Día de la Amistad Sé fiel a tu trabajo,
tu palabra y tus amigos.
Feliz Día de la Amistad
La amistad supone sacrificios y sólo el que está dispuesto a hacerlos comprende la amistad Preferid,
entre los amigos, no sólo a aquellos que se entristecen con la noticia de cualquier desventura vuestra,
sino más aún los que en vuestra prosperidad no os envidian
Mientras admiramos y exaltamos las facultades de la inteligencia humana,
nos olvidamos de buscar sus verdaderos colaboradores.
La amistad, es una ventana abierta a las relaciones humanas, sin más ataduras que el libre albedrío de recibirla en nuestras vidas y hacerle honor a los mas honestos sentimientos.
Los cocodrilos vierten lágrimas cuando devoran a sus víctimas. He ahí su sabiduría. El requisito del éxito es la prontitud en las decisiones.