Former BJP Leader Yashwant Sinha Decries Indian Rupee Value Decrease, Says It Is In 'ICU'
New Delhi: According to the statement by former Finance Minister and former BJP leader Yashwant Sinha given on Tuesday, the current economic turmoil in the country had sent the Indian rupee into a coma.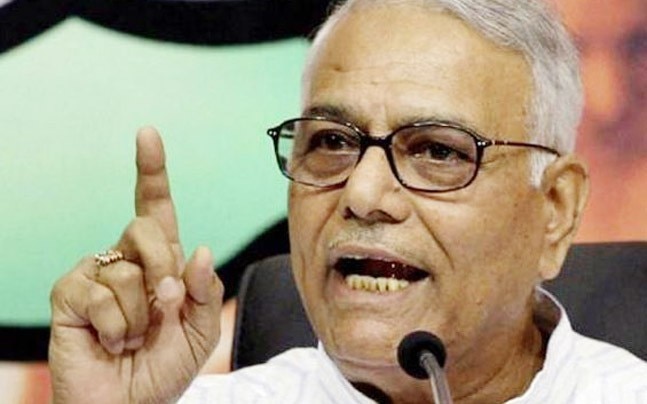 He was addressing the Rashtra Manch platform, formed early this year, and during the speech, Mr. Sinha said: "Narendra Modi, when he was the Gujarat Chief Minister, had said the Indian rupee was in Intensive Care Unit (ICU) when its value was Rs. 60 against the American dollar. Now when the value against dollar is nearing Rs. 75, what can be said? It is now in coma."
Among the top personalities of politics present were BJP rebel from Patna Shatrughan Sinha, Samajwadi Party legislator Ghanshyam Tiwari, former Gujarat Chief Minister Sureshchandra Mehta and Minster Praveensinh Jadeja. The all came to address the public gathering.
Speaking to reporters earlier, Mr Sinha said: "The current situation is such that a citizen cannot express himself against the government. If he or she does, they are dubbed anti- nationals. Which is entirely against the fundamentals of democracy."
Talking about the issue of Rafale defence deal, he said: "We (Myself, Prashant Bhushan and Arun Shourie) have filed a petition to the Central Bureau of Investigation (CBI) regarding the Rafale deal, which is a huge scam by the NDA government.
"And only one person is responsible for it, Prime Minister Narendra Modi," Mr Sinha asserted.
"Nobody, not even the Prime Minister, has the right to violate the Defence Procurement Procedure, but that was violated by the Prime Minister. If this shoddy deal is unearthed by the CBI, many skeletons will tumble out."
Mr. Sinha said they would for a response from CBI for almost around a month. "After that we will decide on our further course of action, whether to approach the judiciary or not."
"What kind of governance mechanism is this when every defaulter, after carrying out huge financial scams, is easily fleeing out of the country?"
Among other concerns, the former Union Minister also expressed his concern over the issue of attacks on north Indian migrants present in Gujarat. "I am not pointing fingers at anybody but the safety and security of its citizens is the state government's responsibility."
Samajwadi Party's Mr Tiwari said: "It should be noted that there has been an alarming increase in incidents of mob violence in the country in the past four and a half years. The communal divide on which the BJP banks on is now turning its ugly side towards the BJP itself. If anyone sows seeds of hatred, they themselves will have to face the repercussions."
Actor-turned-politician Shatrughan Sinha said: "Today everybody is asking me why am I speaking against my own party? My answer is no individual is bigger than the party and no party is bigger than the country. What I am saying is in the interest of the country.
"I am not going to quit the BJP. If anybody wants to sack me, they are free to do so. Today, there is no democracy in the party, only autocracy. It's a one-man show with two men army: arrogance and attitude."
You May Also Read: Supreme Court Directs Centre To Provide Details Of Rafale Deal In A Sealed Cover, Says Won't Touch Pricing Issue