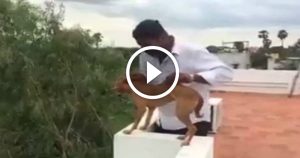 Watch The Horrifying Video Of A Man Throwing Dog From Rooftop Goes Viral
In this video, we can see a man throwing a dog from a rooftop and the dog was seen shivering in fear. The video is widely shared on social networking sites like Facebook and WhatsApp generating uproar of the man.
The incident took place in Chennai, but it is not confirmed. The man holds the dog's neck and was posing for the camera. He then dropped the dog onto the ground. It seemed that the man is a psycho. The dog shouted loud in the pain after falling from the rooftop.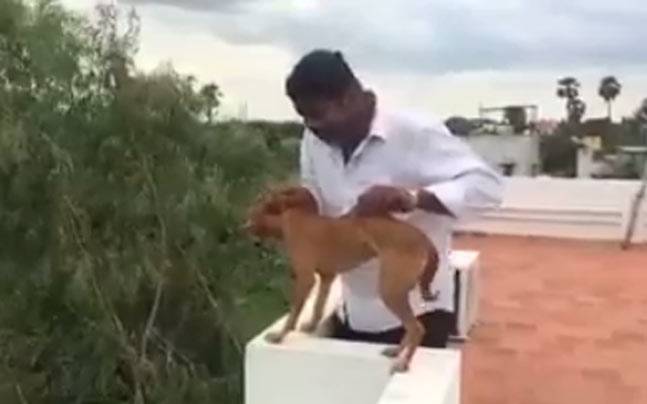 This heartless and sadistic video has gone viral on social media. The video even shows the falling of the dog in slow-motion, which indicates the level of perverseness of the action.
Sally Kannan, Outreach Consultant at Humane Society International, posted the video on her Facebook page, "offering a reward of Rs 100,000 to anyone who is willing to volunteer valid information leading to the arrest and conviction of the person responsible for this evil."
She posted: "Look at what this filthy and miserable excuse of a human being does to the poor doggy who keeps wagging her tail until the last moment… She trusted the asshole even when his dirty mind was planning the worst for her. Please share and help trace this man. This is definitely in India and I am sure someone or the other can finally recognize the man in it. Any information regarding this video and the person in it will be rewarded monetarily. The cyber-crime cell in Chennai is currently investigating the case."
>>> The Man Who Threw A Dog Off The Terrace Is Identified! Check Out Who He Is….
Kannan later posted an update on her Facebook wall, saying an official police case has been registered. "My dear friend Antony Rubin has met the Chennai Commissioner and a case has been registered. Fingers crossed. Hope that evil is caught soon…!" she wrote.