Need a Ride to Hospital at Night? At Least One Cab Won't Refuse
Story of a mechanical engineer, who was spurred to take up taxi driving 31 years ago after his wife, in a serious condition, was refused a ride to hospital in Mumbai. It was in the year 1984 , when he is desperate of help to move his sickened wife to hospital around 2am who complained of abdominal pain  as she was undergone a miscarriage earlier left him shattered as he realized humanity spirit has come so low ,when taxi or auto-wallas refused a ride to hospital. Looking at his wife who sat in pain over half an hour has left him distressed a thought on humanity . It was then made him to took Voluntary retirement from L&T , who was a mechanical engineer with fat pay check and started a taxi for emergency services for free . Yes ! This real story of 62 year old Vijay Thakur who once a mechanical engineer is now a taxi driver to help people on emergency medical services ,as he was left blank when such apathy he has seen in the taxi drivers who couldn't help him to move his wife to hospital had made him to realize on humanity grounds and started a Free Service for hospitalised patients .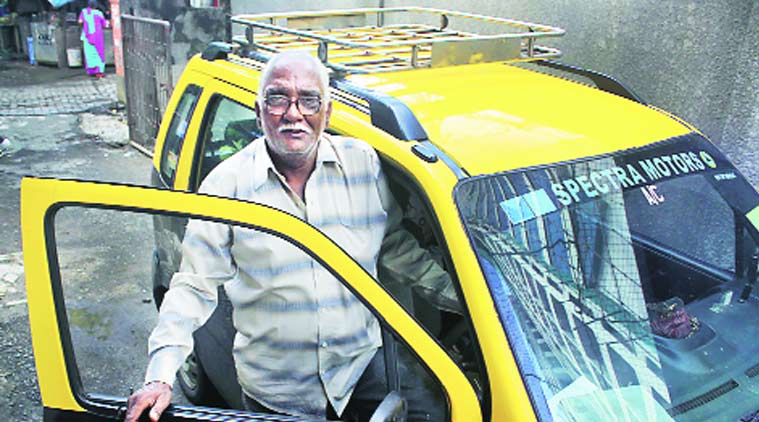 Once a Mechanical Engineer is now a Taxi Driver:
Lets start from where he is now on 62 years of age once a mechanical engineer is now a taxi driver working odd hours , not for the money but to restore the faith of humanity. For the last 31 years, Vijay thakur has been driving a black-and-yellow taxi — first a Fiat, now a Hyundai Santro.In a city where transport authorities regularly receive complaints of refusal to ply, not once has Thakur refused a passenger. His visiting card says 'Free service for hospitalised patients'. Each passenger gets one, with an additional assurance from him, "You can call anytime in the night for medical emergency. I will come."
Lets get back to 1984 where it has all started ,It was 2 am when his wife Saroj Thakur, who had just undergone a miscarriage, complained of abdominal pain. Thakur tried to get an auto-rickshaw or taxi, but in vain. "For half an hour, I hailed auto-wallahs while my wife sat in pain," says Thakur. Saying "it hurt his mind" to see such apathy, he took voluntary retirement from L&T, bought a fiat for Rs 66,000 and got a taxi permit. Over the last 31 years, he says he has never regretted the decision. Saroj admits she tried to persuade him against driving taxis for patients, and so did the entire family. However, she adds that emergency medical services are still an issue in the city. Thakur now gets calls for delivery cases, from patients suffering from kidney stones, road accident cases and other physical injuries day and night. The back of his car has a white sticker: "Hospitalised patients are free in this taxi". His monthly income, close to Rs 10,000 —- a drastic fall from Rs 65,000 per month at L&T —- comes from general passengers. He is attached with two suburban colleges for taxi services.
From one, a management institute, he says he learnt business management skills by talking to teachers and students. "I generated a business model. I got hold of every watchman in the neighbourhood and promised them Rs 20 as commission if they got me customers. Once I drove them, they always called me," smiles Thakur. His little income, he says, comes because he never refuses to ply. Thakur claims he does not charge a single penny from patients so that they can utilise the money for treatment. "Once, when my elder son was getting operated, I accidentally deposited Rs 10 less than the amount of Rs 43,000 at the hospital. It was a mistake. But the cashier said he would not process the payment until the full amount came in. Another man lent me Rs 10 then," Thakur says. He lost his son to gangrene infection in 1999. Since then, he does not charge patients undergoing treatment.
Starting the day from 7am to 5 pm job, he now drives at odd hours. "He has blood pressure and diabetes. His legs and hands pain because of continuous driving. There are no fixed hours. But he is happy," Saroj says. Thakur's younger son Vineet and daughter-in-law Dipti are both managers in private firms. While the son drives a newly purchased Swift, Thakur says he travels only in his Santro. "It runs on gas, saves money," he explains. While his son stills objects to his driving, Thakur says he finds peace in doing humanitarian work.
Once, he saw a car accident on December 31 and promptly transferred all the injured in his cab to R N Cooper hospital.The timely hospitalisation helped save the entire family, except one woman. "The family was ready to pay me any amount because of what I did," Thakur says, then adds, "But a person in need of help should not be charged." He tries to convince his driver friends to never refuse any passenger. "But they need money. I can make do with whatever I have," he sighs.