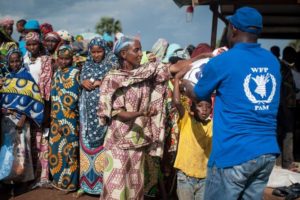 The 2020 Nobel Peace Prize Has Been Awarded to The World's Largest Humanitarian Organization
The 2020 Nobel Peace Prize has been awarded to the World Food Program (WFP), which is also the world's largest humanitarian organization.
The WFP works to feed the hungry.
The World Food Program won the award due to the fact that they are constantly working in combating world hunger.
They are also bettering conditions for peace in conflict-affected areas. They do this by seeking to prevent the use of hunger as a weapon.
It is said that the World Food Program, which is being run by the United Nations, helped around 100 million people in 88 countries.
In the year 2019, 100 million victims of acute food insecurity were helped out by the group.
During this coronavirus pandemic, the World Food Program has demonstrated an impressive ability to intensify the efforts.
The group says that food is the best vaccine against chaos.
The Norwegian Nobel Committee said that hunger prevention helps to improve stability and peace in areas.
The WFP is one of the leading humanitarian groups that are working constantly to prevent hunger-related issues in Africa, Asia, and South America.
They mostly work in areas where poverty affects the lifestyle of such a person.