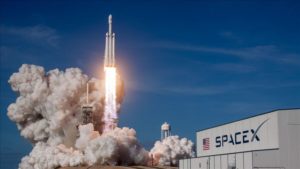 SpaceX Is Looking For 4 Civilians That Would Want To Go To Space
SpaceX, a private American Aerospace Manufacturer, and space transportation services company, is planning to send 4 members of the public to space, but only if they can afford it.
The tech giant is going to allow civilians to buy a place on board the Crew Dragon spacecraft, which was built to take astronauts to the ISS (International Space Station).
It is believed that a single seat on the plane would cost anywhere from $8 Million to $15 million dollars.
It is still not clear when the tourists will be able to set off on their mission.
Experts believe that the tourists will be traveling to the International Space Station before the end of 2021 and will stay there for at least 5 days.
Space Adventures, a booking agent, has partnered with SpaceX to sell the trips to the ISS.
Gwynne Shotwell, the president of SpaceX, said, "This historic mission will forge a path to making spaceflight possible for all people who dream of it, and we are pleased to work with the Space Adventures' team on the mission."
The travelers will not spend time at the International Space Station or anywhere else on the trip.
According to reports, the travelers that will be with the crew are going to stay inside the crew during the blastoff.
The members of the public will enjoy some time in orbit and then drop back down to Earth.
If the mission is successful, it will become the highest altitude to be ever achieved by a private citizen.
The tourists that will be with the crew are going to enjoy a view that has not been offered in decades.
Eric Anderson, the Chairman of Space Adventures, released a statement about the new offer by SpaceX.
Anderson said, "Honoring our combined histories, this Dragon mission will be a special experience and a once in a lifetime opportunity — capable of reaching twice the altitude of any prior civilian astronaut mission or space station visitor."
Space Adventure, the booking company for the trips, has organized 8 private trips to the ISS (International Space Station) in recent times.
The latest trip was done for Guy Laliberte, the founder of Cirque du Soleil, who visited the space in the year 2009.