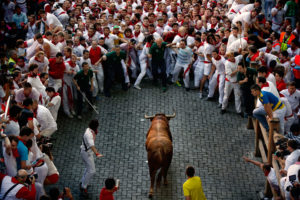 8 Runners Hospitalized On The Last Day Of The San Fermin Bull-Running Festival In Spain
San Fermin Bull-Running Festival 2019: 8 runners were rushed to the hospital, in which three of them sustained goring injuries, on the last day of the bull-running festival in Pamplona, Spain.
The San-Fermin Bull Running Festival started on July 7 and lasted until the 14th of July, thousands of people, in which most of them wore white shirts that were paired with red scarves, run in the narrow streets of Pamplona to take part in the annual bull-running festival.
In an 875-meter chase, more 6 aggressive bulls, that are specially bred, are set free, in the run, people from the crow run with the bulls and try to dodge its horn as it charges towards them.
A medical officer from the Red Cross confirmed that three runners were gored by the bulls on the last day of the annual festival.
The officer added that the runners sustained injuries in the arm, leg, and armpit.
The bulls are killed in a ring later in the day in front of an audience that watches the bull-fighting show.
The annual bull-running festival is usually slammed by PETA (People for the Ethical Treatment of Animals), and many animal rights groups.
PETA and other animal rights group call the event as outdated and cruel.
Jordi Casamitjana, the campaign manager of PETA, claims that most of the people who attend the festival in Pamplona do not even know that bulls get killed at the end of each day.
Jordi also claims that the event actually puts off tourists after they attend it.
During an interview with the Guardian, Jordi Casamitjana, the campaign manager of PETA, said, "Most of the protesters are Spanish. The reality is that the majority of Spaniards are against bullfighting. A lot of people don't come to Pamplona in July because of San Fermín and a lot more tourists would come here if they banned it."