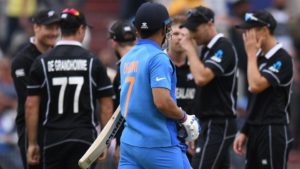 Cricket World Cup Semi-Finals: India Exits World Cup After Disappointing Defeat To New Zealand
India lost to New Zealand yesterday in the first Semi-Finals match of the 2019 Cricket World Cup that was being held in Manchester's Old Trafford.
New Zealand defeated India by 18 runs and has booked a sport in the Cricket World Cup Finals and will face against the winner of Australia vs. England.
Kane Williamson of New Zealand won the coin toss and selected to bat first. New Zealand scored 239/8 in 50 overs.
India had to score 240 to win the match so they could secure a spot in the Finals of the 2019 Cricket World Cup.
India had a bad start in the match, as they lost 3 of their three batsmen in just 4 overs.
Virat Kohli was really heartbroken and disappointed after the defeat, he said, "It doesn't matter what you have done before that. It's a fresh day, fresh start, and if you are not good enough you go home. So you have to accept that."
He added, "I'm very disappointed. We played outstanding cricket throughout this tournament and to just go out on the basis of 45 minutes of bad cricket is saddening and it breaks your heart because you have worked so hard throughout the tournament to build momentum."
This is currently being considered as the worst defeat of India since losing to Bangladesh in the 2007 Cricket World Cup.