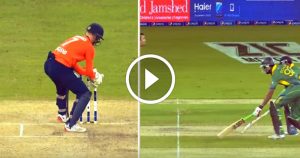 Funniest Run-Out Involving Umar Akmal And Sohaib Maqsood
In the first T20I match between England and Pakistan, Umar Akmal has become a victim of a funny run out when he was batting with Sohaib Maqsood. In the 12th Over, Umar Akmal and Sohaib Maqsood had involved in a funny moment while everyone laughed at them. Both the batsmen were captured running to save their own wicket. Both ran to the same end due to misunderstanding while running between wickets.
Watch Video Here:
https://www.youtube.com/watch?v=eP8PVfxczVA
Umar Akmal was at striker's end and Maqsood at Non-striker's end. While Akmal was running, Maqsood backed off resulting Akmal run out. England players enjoyed the moment a lot.
Also Watch: [Video] MS Dhoni Testing The Pink Ball Under Lights For The Ind Vs Aus Match