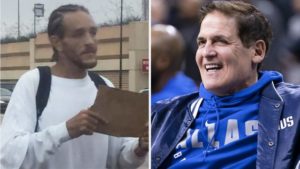 Mavericks Owner Picks Up Troubled Former NBA Star Delonte West From Gas Station And Pays For Rehab
Delonte West, a former NBA star, was recently seen begging for money at a gasoline station in Texas and the images of that left basketball fans all over the world devastated.
One of the people that got to see the horrible image was Mark Cuban, the owner of Dallas Mavericks, and he did not hesitate to help out the 37-year-old former Mavs player.
After being reunited with his mother at a Texas Hotel, Mark helped out West and checked him in into a Florida drug treatment facility.
The search for Delonte West started last week when a photograph of the former first-round pick went viral. He was seen begging on the streets of Dallas.
Mark reached out to Delphina Addison, the mother of West, who asked the billionaire to help them track down their son.
Cuban managed to get in touch with West and the 2 arranged to meet at a gas station on Monday, said TMZ.
West, a former Mavericks player, has a bipolar disorder. He was brought to a local hotel by Mark Cuban and was enrolled in a drug treatment program in Florida, which Cuban has offered to pay for.
Cuban declined to release a comment on the incident.
Cuban confirmed that the 2 met at a gasoline station.
West is currently homeless and is a father of 2 kids.
He is still married to Caressa, his second wife. It is still unclear if the 2 were in contact when West was seen begging in the streets of Dallas.
This is not the first time West has been seen struggling to overcome the problems that he is facing in life.
A couple of years ago, he was seen begging and doing the same thing he was recently.
Our thoughts and prayers are with the family of Delonte west, may he recover and overcome the battles he is fighting right now.