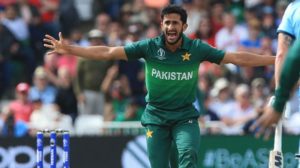 Pakistani Pacer Hassan Ali Will Marry Indian Girlfriend In Dubai On August 20
Hasan Ali, a cricket pacer that plays for the Pakistan National team, confirmed that he will be marrying his Indian Fiancé, Shamia Arzoo, in Dubai on August 20.
During a press release, he said, "Our families wanted to keep this a low key affair but since the matter has come out in the media I have decided to make an official announcement to ensure there are no speculations surrounding my marriage."
He added, "I will be wearing a black and red sherwani suit while she will be dressed in Indian style."
The cricketer said that he met Shamia last year in Dubai and has been dating her since then.
On the 30th of July, Ali confirmed that there is a wedding, but did not confirm the date of their wedding.
just wanna clarify my wedding is not confirmed yet, our families have yet to meet and decide upon it. will make a public announcement very soon in sha allah. #gettingreadyforfamilymeetup

— Hassan Ali 🇵🇰 (@RealHa55an) July 30, 2019
Ali has played 53 ODI Matches and 9 Test matches, he was a key player in the huge victory of Pakistan in the Champions Trophy Triumph in 2017.