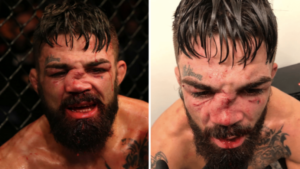 Welterweight Mike Perry Suffers One Of The Nastiest Nose Injuries In The History Of UFC
Mike Perry, a welterweight fighter in UFC, suffered one of the nastiest nose injuries in the history of UFC during his battle against Vicente Luque in UFC Fight Night 156 in Montevideo, Uruguay.
Perry, who is 27-years-old, lost the match to a split decision on August 10, 2019.
Even after losing, he still got the most attention.
In what is considered by many as the nastiest nose injuries in the history of UFC, the nose of Perry was looking like it got dislocated in a number of places.
The nose of Perry broke after he was hit in the face with a flying knee.
Even with a broken nose, Perry fought the match but lost to Luque in a split decision of  29-28, 28-29, 29-28.
Here are some close-up pictures of the injury of Mike Perry.
😳@PlatinumPerry pic.twitter.com/xIaNn901rp

— Dana White (@danawhite) August 11, 2019
It is reported that Perry was rushed to a hospital for a CT scan as he started to have trouble breathing after the fight ended.
The hospitalization of Perry was confirmed by Dave Shaw, an executive of UFC.
The fight between Perry and Vicente Luque won as the fight of the night and the two went home with an extra $50,000 each.