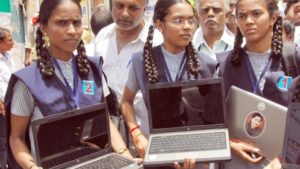 Tamil Nadu: Government to 15.18 Lakh Free Laptops to Students This Year
On Wednesday, K. Palaniswami the Chief Minister of Tamil Nadu launched a scheme for students that will give them free laptops for the school year of 2018 and 2019, they gave laptops to 7 students in the state secretariat.
A statement that was released by the government, it said that the government will give free laptops to 15.18 lakh students, the total budget for the scheme is Rs. 1340.44 crores.
The AIADMK government who was under the rule of J. Jayalalithaa the Chief Minister of that time launched the scheme back in 2011 which will give free laptops to the students in Tamil Nadu.
Since 2011, the government of Tamil Nadu has given out free laptops to 37,88,528 students, the total outlay of the laptops is currently sitting at Rs. 5,552.39 crores.