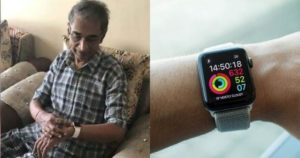 ECG Feature In Apple Watch Helped Save The Life Of A 61-Year-Old Man From India
The ECG feature that could be used in the Apple Watch has helped save the life of an elderly man in India.
R Rajhans, the 61-year-old man that we are talking about, is from Hyderabad and the ECG feature in a watch that is made by Apple, a tech giant, helped save his life after an irregular heartbeat was detected.
After feeling unwell in March this year, the ECG feature on his watch was used right away.
Rajhans, who is a retired pharmacist professional, got the watch from his son, who gave it to him as a gift.
Siddhart, the son of Rajhans, talked with IANS about the incident and said:
Since Apple Watch allows the ECG function, one can check it on a more regular basis. Twice or thrice, in the middle of the night, my father was getting arrhythmia signals or irregular heartbeats. It's a critical indicator.
When the irregular heartbeat signals persisted, Rajhans decided to call a doctor and get help right away.
It turned out that Rajhans has hypertension.
Initially, the family did not know that their father had a heart problem, but further investigations revealed that Rajhans had a low ejection fraction in his heart, so the doctors had to carry out heart surgery.
The coronavirus pandemic ended up delaying the surgery of Rajhans, but the doctors advised the family to use the ECG monitor on the watch.
Talking about his father, Siddhart said:
My dad underwent a Mitral Valve replacement surgery and it was his Apple Watch that helped detect the irregular heart rhythm prior to the Valve failure Echo-cardiograph.
After the successful surgery of his father, Siddharth sent an email to Tim Cook, the CEO of Apple, and told him about what had happened.
Last week, Tim sent a reply to Siddharth.
In the email that was sent to Siddharth, Cook said:
Siddharth, thank you for sharing this. I am happy to note that your father received medical attention in time and I hope he's feeling better now. Our team will connect with you.
Talking about the watch that he gave to his father, Siddharth said:
The idea of having a device like the Apple Watch is to strike a balance between using tech and medical awareness in order to take charge of our parent's lives. It saved my dad's life. It's a life-changing product.
The ECG application and irregular heart rhythm notification feature that is present in current Apple watches help users identify any upcoming heart problems or AFib.
AFib is one of the most common irregular heart rhythm problems.
If not treated right away, AFib could lead to a stroke or a heart attack.