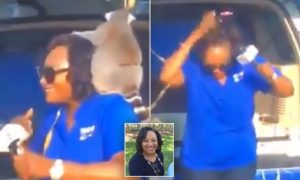 Georgia Reporter Gets Her Wig Pulled Off By A Sneaky Handsy Lemur On Live TV  
A hilarious moment was caught on cam when a handsy lemur pulled the wig of a reporter from Georgia on live TV.
Yolanda Amadeo, a Chief Meteorologist of the WALB, was reporting last week at the Georgia national Fairy in Perry when the hilarious incident happened.
During the interview, Yolanda was interviewing a representative from the Eudora Farms Petting Zoo, and she wasn't expecting anything to go south.
While interviewing the representative, the lemur decided to jump on the shoulder of Yolanda.
And this is where everything went south, which includes the hair wig of Yolanda.
The lemur decided to explore the hair of Yolanda, and suddenly, the lemur dragged it and took off the wig of the reporter on live TV.
The lemur exposed the braids of the reporter and it didn't stop there.
The lemur went back onto the representative and came back again to explore the wig of Yolanda.
At the second attempt, Yolanda runs off and tries to escape the hilarious lemur.