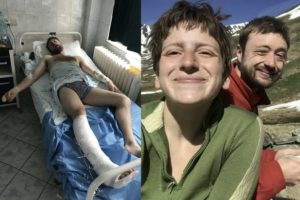 Lucky Man survives bear attack by punching it in the eye
Andi Bauer, a 26-year-old man, who was with Lara Booth, his 23-year-old girlfriend, were out hiking in Romania when suddenly they had to face an angry female bear and her 2 babies.
The female bear attacked Andi and managed to cause severe damage at his right leg.
Instead of running away, Lara, who was behind Andi, shouted at Andi and said 'punch it in the eye',
The punch was strong enough that the female bear decided to back off.
Andi then brought out his sock and started to cover his wound so he could stop the blood from flowing out.
Lara, the girlfriend of Andi, went up to the hills so she could find a signal on her smartphone so she could call for help.
When Andi was asked about the attack, he said, "I was in a state of shock, so I don't remember the pain anymore. But this momma bear was suddenly a metre away from me. It was so loud. I had my side turned away from it, so when I saw it bounding towards me, I just didn't have time to think about what to do.
He added, "It bit my leg, held on to it, and dragged me and threw me about. I was crying out for help, but there wasn't anything that anyone could do. The bear let go of me, and after Lara told me to punch it in the face, I hit it. It then went away. I suppose I'm lucky I got through it. But I'd have been luckier not being attacked."
Lara, the 23-year-old girlfriend of Andi, said that she was "Frozen" with fear when she saw the bears.
She added, "I was probably useless – I was screaming at Andi the whole time. Keeping calm during an attack like that is hard. I did so as best I could. Then I remembered that you're supposed to punch a bear in the eye, so I yelled that, and the bear turned around and left him. Andi's so luck to be alive."
Andi and Lara were out hiking in the Carpathian Mountains, which is located in Southern Romania.
The incident happened in May.
Lara did mention that they were warned out by the local priests that they should not go hiking on the mountains but added that they went ahead.
They were carrying a tent and their sleeping bags with them during the trip.
On the first day of their trip, the couple saw a snake, a lizard, and 6 wild boars – and Andi, the survivor of the attack, joked about the unexpected, he said they were not expecting to see a wild bear.
The attacked happened on the second day of their hiking trip, they were just three hours into their trekking and when suddenly they come across a mauled deer and then 3 bears.
The attack of the bear was so strong that it managed to shatter the bone of Andi into three places.
The bear also managed to tear some of his calf out.
Eventually, Lara found a signal on her phone and she called out for help.
Andi was brought to a Romanian Hospital through a Helicopter.
He is now admitted in a hospital in Germany.
Lara also talked about the incident.
She said, "This was supposed to be a hard but pleasant hike through the Romanian mountains. I'd read up about bears and panthers, but Andi had persuaded me not to bring a bear spray because he thought it'd be more likely that it would explode."
Lara also mentioned that she had a "bad feeling" during the trip.
She added, "Leaving him on the mountains on his own was the hardest thing I've ever had to do. To keep him safe, I told him to keep speaking loudly to scare other animals off. And the whole time I looked for help, another thunderstorm was gathering. It was a race against the clock at that point. But we won that one. He's doing as best he can now, and is being treated properly in Germany."
Andi is currently recovering from his Injuries.