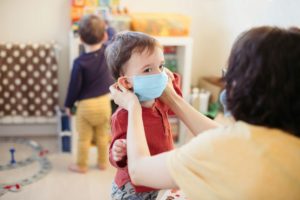 Scientist Says Diarrhea, Vomiting, And Stomach Pain Or Cramps Should Be Official Symptoms Of Coronavirus In Children
Diarrhea, vomiting, and stomach pain are something that should be listed as the official symptoms of the coronavirus in children, says a scientist.
It is said that the coronavirus linked strongly with the 4 symptoms that are listed above, however, they are not listed in the official symptoms.
Researchers in Northern Ireland said that gut-related signs are strongly linked to the coronavirus in children.
For adults, the top symptoms stay the same.
Dr. Tom Waterfield at Queen's University Belfast said:
We are finding that diarrhoea and vomiting is a symptom reported by some children and I think adding it to the list of known symptoms is worth considering.
Dr. Waterfield and colleagues studied around 992 children, out of whom 68 of them had the deadly disease.
The kids were around 10 years old at an average.
Kids with the virus showed gastrointestinal symptoms.
34 out of the 992 children who had the virus showed symptoms.
33 out of the 34 children had had stomach problems.
Dr. Waterfield and fellow researchers said:
This study demonstrates that approximately half of children are asymptomatic when infected with SARS-CoV-2 and that current UK testing strategies will fail to diagnose the majority of paediatric infections.
The stomach and gut symptoms were reported in the children, and 21 of the kids had a fever, which is the most common sign of having the deadly disease.
6 children in the study lost their taste or smell. These are listed as an official symptom of the deadly disease.