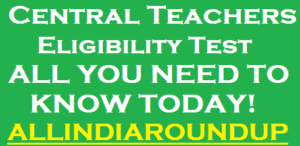 CTET 2018 Application Form: All You Need To Know About September Exam Date
CTET 2018 Application Form: Central Teacher Eligibility Test or CTET will soon be submitted in the list of one of the most-delayed examinations of the nation. Because this is the fourth time when CTET Exam is getting postponed day by day. Value of a competitive examination in India can be evaluated with the help of a number of candidates appearing.
And, back in 2015, 7.5 lakh students appeared for CTET exam. Even after releasing the information bulletin of September examination on www.ctet.nic.in, Board of a controller of examinations, CBSE (Central Board of Secondary Education) has not released an online Application Form for the same.
In accordance with the recently uploaded official notification of central teacher eligibility test, a date for submission of online application was from 22 June 2018 to 19 July 2018. And, the last date for submission for a fee was 21st July 2018 (before 03:30 PM). Moreover, both the days have already been passed, but the online registration link of CTET is not yet activated.
For eligible candidates, schedule of CTET 2018 (tentatively) was 09:30 AM to 12:00 PM for Paper 1 and 02:00 PM to 04:30 PM for Paper 2 on 16th September 2018 (Exam Date). Although, regarding the next exam date no brochure has been released online by CBSE. Yet, every next aspirant of CTET is very well acquainted with the fact that CTET will not be conducted on 16.09.2018.
As per educational qualification norms, minimum qualifications for becoming a teacher for Class 1-5 (primary stage) and classes 6-8 (elementary stage) are different. Following, this Paper I and Paper II will be for a person who intends to be a teacher for classes I to V. 
Total 30 MCQs of 30 marks each will be asked from CTET 2018 syllabus i.e. Child Development and Pedagogy, Language I (compulsory), Language II (compulsory), Mathematics and Environmental Studies.
From the date of declaration of result upto seven years, CTET 2018 Certificate remains valid. If nothing would have delayed following administrative reasons, Admit Cards for CTET 2018 were supposed to release online w.e.f. 20th August 2018.
Whenever CTET 2018 Application Form will be released online, ALLINDIAROUNDUP will keep you updated, thus stay tuned with this Google News Approved Authority Website for the latest news of Central Teacher Eligibility Test by Central Board of Secondary Education.