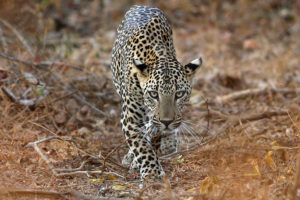 10-Year-Old Sleeping Girl Attacked By Leopard Inside Her House In India
Binohani, Balrampur: A 10-year-old girl, who was sleeping inside her house, was attacked by a leopard that managed to sneak inside their house.
According to reports, the incident happened on October 6, 2019, when the girl was sleeping with her parents inside their house in Binohani Village, Balrampur.
The Binohani village is located near a jungle in the outskirts of the district.
When the family realized the girl was attacked by a leopard, they shouted and scared the leopard away.
The girl was rushed to a hospital in the area.
According to a report by NDTV, the girl sustained a lot of injuries.
The current condition of the girl is stable.
The attack happened at the Binohani Village, which is located in the Bankatwa range in the Suhelwa Forest Area of Balrampur district.
Rajnikant Mittal, a forest officer, said a team has been sent to the area so the leopard could be detained.