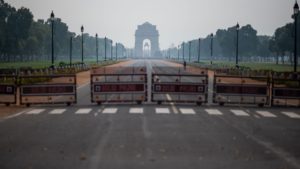 Complete Nationwide Lockdown: India Orders 1.3 Billion Citizens To Stay Inside Their Houses Due To Coronavirus Pandemic
Prime Minister Narendra Modi has announced that a nationwide lockdown will be held in the entire country of India, as the coronavirus pandemic is not slowing down the infected numbers in the country.
India, which has 1.3 billion citizens, currently 562 cases of the Coronavirus cases.
Despite the low numbers, the Prime Minister wants to make sure that his country does not end up like Italy, China, or the USA.
The Prime Minister said if tough measures are not implemented in India, a number of families will be destroyed forever.
In a live telecast, which was broadcasted throughout the nation, Prime Minister Modi said, "You have seen the worldwide situations arising from the coronavirus pandemic in the news. You have also seen how the most powerful nations have become helpless in the face of this pandemic."
PM Modi added, "What the experts are saying is that social distancing is the only option to combat coronavirus. That is to remain apart from each other and stay confined to within your homes. There is no other way to remain safe from coronavirus. If we have to stop the spread, we have to break the cycle of infection."
He continued, "From 12 midnight today, the entire country will go under a complete lockdown to save India and for every Indian, there will be a total ban on venturing out of your homes. Therefore, I request you to remain wherever you are in this country."
Prime Minister Modi made the huge announcement on March 24, 2020.
The lockdown will last for 21 days, which health authorities in the country believe is the least amount of time the country needs to break the cycle of the infection.
As of writing this article, 10 people have died from the coronavirus in the country.
Modi said, If we are not able to manage this pandemic in the next 21 days, the country and your family will be setback by 21 years. If we are not able to manage the next 21 days, then many families will be destroyed forever."
The huge step of Prime Minister Modi and the government of India will help the country to see a huge spike in the numbers of infected people.
Prime Minister Mody says he hopes that the latest precautionary measures of his government will keep the numbers low.