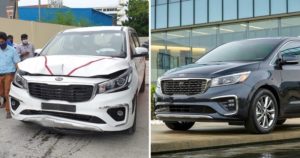 Driver Slams Newly Bought Car Into Showroom's Wall
Bad incidents happen, and we humans tend to forget about them, but some are caught on camera and the only thing we can do is regret, regret, and regret.
An incident that was caught on cam just shows that a man from India just had one of the worst days of their life.
A video that is viral on the internet right now shows a driver slamming their newly brought vehicle into the wall of a showroom.
The entire moment is just too much to watch.
Sunil Grover, a comedian and an actor, shared the video on Twitter earlier this week and social media users are laughing.
Grover shared a video that showed a driver ramming his brand new Kia Carnival Minivan into a showroom wall.
The incident happened minutes after the delivery was made.
The video that was shared by Grover is not a new one.qqqqqqqq
It went viral earlier this year after it was initially uploaded on YouTube, a video streaming website.
The video was shared and it shows a car dealership employee talking with the driver.
People started to get inside the car, and the driver went on to take the first run, but things went worse.
The driver ended up losing control of the vehicle and rammed it straight into a wall.
The video was shared by Grover with the caption: "New car, directly from showroom to service station"
What are your thoughts about the video? Let us know what you think about it by leaving a comment in the comments section below!