Indian Police Shoot Dead 4 Men Who Raped And Burned A Young Female Vet In Hyderabad
The Indian Police have shot dead 4 main suspects of the Hyderabad rape and murder case that happened last week.
The 4 main suspects were in police detention when they were killed in a claimed encounter.
Reports suggest that the suspects were taken back to the scene of the crime in the early hours of Friday so they can reconstruct the crime.
According to the police, the men tried to steal the officers' guns and tried to escape.
The men were shot after the claimed attempt.
Human rights organizations are now calling for investigations to determine if the killings were extrajudicial.
Avinash Kumar, the executive director of Amnesty International India, said, "Extrajudicial killings are not a solution to preventing rape."
The 4 men have been identified as Mohammed Pasha, Jolly Siva, Chenna Keshavulu, and Naveen Kumar.
The remains of Priyanka Reddy, the 27-year-old rape victim, were discovered last Thursday.
The charred remains lead to massive protests and outrage.
After the family of the victim found out about the killings of the suspects, celebrations started.
The neighbors of the victim celebrated with firecrackers and thousands of people took the streets to hail the amazing act of the police.
VC Sajjanar, the police commissioner of the Hyderabad Suburb of Cyberabad, said 10 armed policemen took the 4 suspects, who were not wearing handcuffs, to the scene of the crime on the early hours of Friday.
The encounter happened near Microsoft and Google's headquarters.
The commissioner also released a statement about the killing of the 4 suspects.
The commissioner said, "The four men got together and started to attack the officers with stones and sticks and also snatched away weapons from two officers and started firing."
The statement added, "Although the officers maintained restraint and asked them to surrender, they continued to fire and attack us. This went on for 15 minutes. We retaliated and four accused got killed."
2 officers were injured in the incident.
The commissioner said 2 officer sustained head injuries in the incident.
After the death of the vet, residents of Hyderabad criticized the actions of the police for failing to protect women.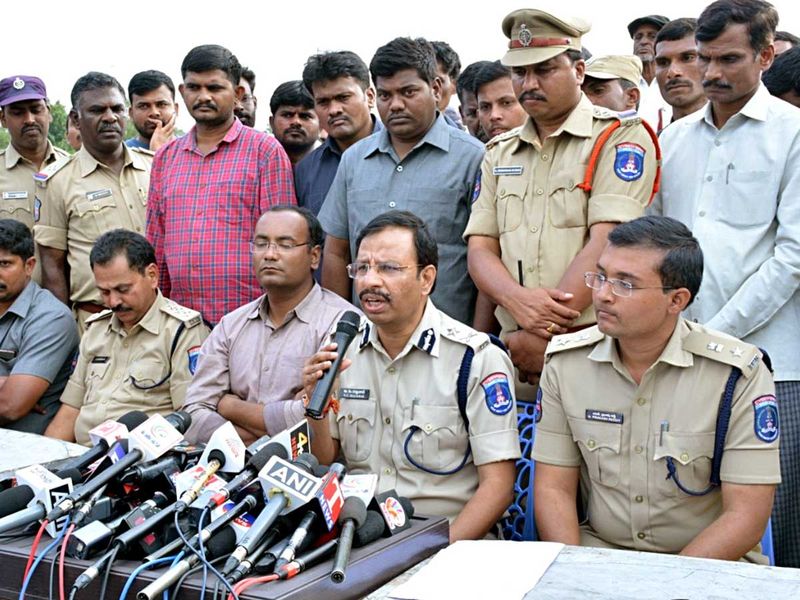 The family of the victim accused the police for delaying to reports a missing complaint.
Reports suggest that victim left her house at around 18:00 local time on the day of the incident to go to a doctor's appointment.
She called the family to say that her tire got flat and a lorry driver offered to help her.
The victim said she was waiting near a toll plaza.
The family tried to contact the woman but the efforts were unsuccessful and her body was discovered later.
The Hyderabad Police suspended 3 police officers when the family's victim said they did not file the missing complaint on time.
At first, the police thought the woman may have eloped.