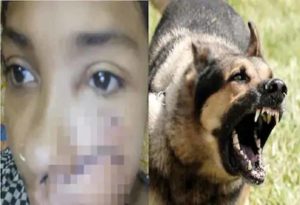 New Delhi Spa Owner Arrested For Letting Aggressive Dog Loose On Female Employee Who Demanded Salary
New Delhi, India: The police in Delhi arrested an owner of a spa after they released a dog on an ex-employee who was demanding them to give her the salary that they owned.
According to the police the incident happened on June 11, 2020, in south Delhi's Malviya Nagar area.
The ex-employee ended up getting 15 stitches on her face and neck after the incident.
The woman said that she worked in the spa for over a month before the coronavirus pandemic and left the job on March 22, 2020.
In a complaint that she made to the police, the woman said that the owner of the spa, Rajni, called her so she could come to her house so she could get the salary.
Rajni reportedly asked the victim to do more work so she could get the pending salary, and upon refusing, the owner let her dog loose.
Rajni lives in Khirki Extension, which is located in Malviya Nagar area.
Atul Kumar Thakur, a police official, released a statement about the incident and said:
On Thursday, a woman lodged a complaint where she stated that one Rajni provoked her dog to bite her when she went to ask for her dues. On her complaint, a case under sections 289 (negligent conduct with respect to animal) and 308 (attempt to commit culpable homicide) of the Indian Penal Code has been registered and the accused has been arrested.
When the victim started to cry and shout, Rajni asked her to stay calm as people near her house would come over.
Officer Thakur said that the victim was later brought to the Madan Mohan Malaviya Hospital from where she was referred to Safdarjung Hospital.
The victim, Sapna, said:
I received 15 stitches on my face and neck. I have no idea why she refused to clear my dues.
Sapna approached MLA Somnath Bharti and an NGO to get help.
The MLA and the NGO helped her submit a written complaint at Malviya Nagar police station on July 2, 2020.
It is still not known if Sapna got her salary and if Rajni paid for the medical expenses of the victim after the incident.