Octopus Indian Baby Girl Born With 4 Legs, 3 Hands, And 4 Arms
Octopus baby born in India, has 4 legs, 4 arms, and 3 hands.
Indian doctors are baffled with the new discovery, and many believe the child was part of a set of triplets that got conjoined throughout the pregnancy.
24-year-old Raju, the mother of the girl, gave birth to the twins in a government hospital in Tonk, Rajasthan.
On September 20, 2019, Raju gave birth to the twins.
The baby boy is healthy, but the baby girl was born with an extra set of legs, hands, and arms.
The extra body parts are mostly found in the chest and the abdomen of the baby girl.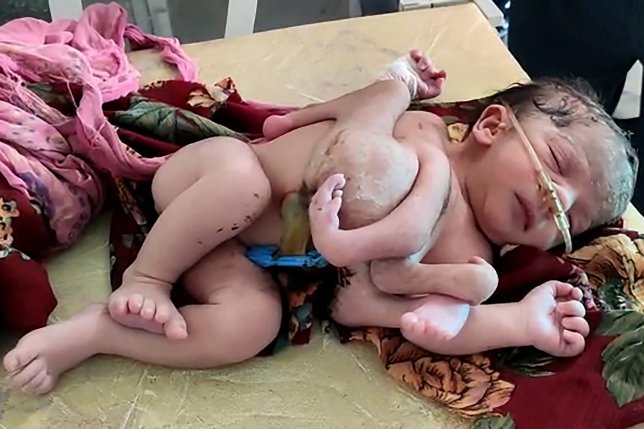 Doctors believe they can remove the extra arms, legs, and hands through surgery in the future.
Dr. Rohitesh Meena, the surgeon who delivered the babies, said, "Raju gave birth naturally to the twins at around 2:46 am. The male child is normal but the female is a case of conjoined twins. She had a minor breathing issue. We put her on oxygen support and her vitals are stable now."
Dr. Meena added, "We will refer her to an advanced hospital in Jaipur for further treatment and pediatric surgery. The mother and the male child are stable."
Badhulal Gurjar, the father of the twins, was expecting one child.
Gurjar, who works as a laborer, said they were shocked to see their baby girl.
Raju and Gurjar can't read and write.
The couple said they did not get an ultrasound during the pregnancy and did not know Raju is having twins.
Dr. Meena said the couple was distressed after they saw the condition of their baby girl.