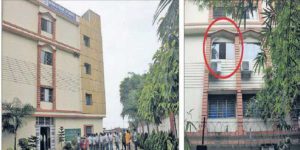 One Dead After 2 Students Fell Off From The Second Floor Of A School Building In Fulbari
West Bengal: A grade 9 student from a school in Fulbari has been declared dead after falling off the second floor of the school building.
Preliminary investigations revealed that the student was pushed through an open window inside their classroom, which is located on the second floor of the school, by his classmate.
The private school is affiliated with the CBSE Board.
According to T Rajni Prasad, the principal of the school, the incident happened during the lunch break on Monday.
The Principal added that Rishab Arya and Hrithik Kumar Singh, the two students, were pushing each other when suddenly they lost control and fell off the open window inside their classroom.
In an official statement that was released by the school, she said, "Unfortunately, the window from which they fell had no grilles. I had no information that the grilles were broken three days ago and had been removed."
The Principal added that the Arya and Singh were rushed to a private hospital after school officials got to know about the accident.
Rishab Arya, a class 9 student, was declared as dead upon arrival by the doctors at the private hospital.
According to the father of Singh, his son only sustained a fracture on his left hand.
The investigating officers of the accident have acquired the CCTV footage of the school.
The officers are currently talking with the security guards and school teachers were present at the school when the incident happened.
Gautam Deb, the Tourism Minister of West Bengal, went to the school and talked with its officials and spoke with the families of Singh and Arya.
Minister Gautam has described the incident as "unfortunate" and said that they "will try to find out how could such an incident can take place in a school."
The investigating officers from the New Jalpaiguri Police are considering this case as an unnatural death case.
No complaint has been lodged for the reason so far.