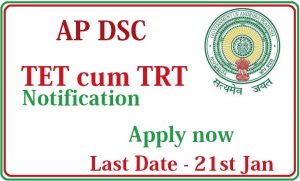 AP DSC 2015 TET TRT Notification – 22 Jan Last Date for Online Application
AP DSC 2015 TET CUM TRT Notification – 22 Jan Last Date for Online Application: As you all know the DSC 2014 recruitment notification has released long back in the month of november 2014. We are here to remind you that this AP DSC 2014 or TET CUM TRT Online application last date is 21st january 2015. Last date for fee payment is 21st january and last date for submitting online application is 22nd january 2015. Interested and eligible candidates still did not apply for the e Andhra Pradesh State District Selection Committee recruitment hurryup now.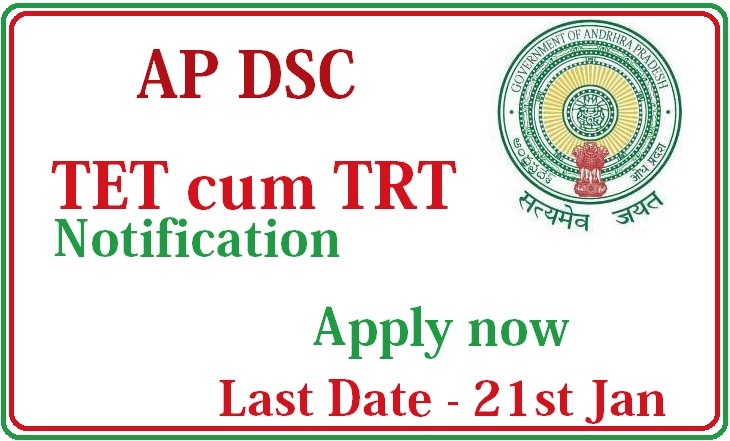 This is new exam as AP DSC is the combination of  Teacher Eligibility Test with Teacher Recruitment Test so the syllabus and exam pattern has changed. Here we provided you the information about the eligibility criteria, age limit, Educational qualifications, syllabus, exam pattern and How to apply for this AP DSC ( TET CUM TRT ) 2014.
Notified Total Posts : 9061
1. School Assistants : 1849
2. Language Pandits : 812
3. PETs : 156
4. SGTs  : 6244
Eligible Criteria:
Educational qualification :
Candidates completed B.Ed and D.Ed from the recognized university or completed Graduation from the recognized university.
Age Limit  :
aspirants must have minimum age of 18 years and not have completed the maximum age of 39 years.
In Case of SC/ST/BC Candidates,the maximum age limit is 44 years and for Physically challenged candidates is 49 years.
Application Fee: Rs.250/-
Note: Fee Towards application processing and Teachers Recruitment Test for Each Post. Payment can be made by AP ONLINE or e-seva centers on or before 21st january 2015
How to APPLY for AP DSC Notification 2014 -15 ?
Visit the official website or the link provided below.
Navigate to submit application button
You need to pay the fee first before aplying
After doing the payment only you can proceed futher.
The fill all the required details like payment and personal details and educational qualification.
Next upload your photo ans signature.
Photo Height: 4.5 cms
Signature Space: 1.5 cms
Scan the required size containing the Photograph and Signature and do not scan the complete page.
Scanned image should not be more than 50KB.
Then submit the details.
AP DSC 2014 Latest Exam New Syllabus:
                     AP DSC 2014 New Syllabus for Secondary Grade Teacher


                                                                   Secondary Grade Teacher
1.GK and Current Affairs
20 questions
20 marks

Sisu vikasam, Bhodhana sastram

30 questions
30 marks
3.language-1 Content, Methodology
30 questions
30 marks

language-2 (english)Content, Methodology

30 questions
30 marks

Maths Content, Methodology

30 questions
30 marks

Environmental Science-1 Content, Methodology

20 questions
20 marks

Environmental Science-1

20 questions
20 marks
Total
180 questions
180 marks
Language Pandut-2
GK and Current Affairs
20 questions
20 marks
Sisu vikasam, Bhodhana sastram
30 questions
30 marks
language-2 English
15 questions
15 marks
language-1 aspirants choise
100 questions
100 marks
Maths, science or Social studies
15 questions
15 marks
Total
180 questions
180 marks
     AP DSC 2014 New Syllabus for School Assistant 


 

                                                                   Paper-2 School Assistant -Math's
1.GK and Current Affairs
20 questions
20 marks

Sisu vikasam, Bhodhana sastram

30 questions
30 marks
3.language-1
15 questions
15 marks

language-2 (English)

15 questions
15  marks

Math's , Science ( maths-80, Biology-10, physics-10

100 questions
100 marks
 Total
 180 questions
 180 marks
  Paper-2 School Assistant –Biology
GK and Current Affairs
20 questions
20 marks
Sisu vikasam, Bhodhana sastram
30 questions
30 marks
language-2 English
15 questions
15 marks
language-1 aspirants choice
15 questions
15 marks
Math's , Science ( Biology-80, Math's -10, physics-10
100 questions
100 marks
Total
180 questions
180 marks
AP DSC 2014 New Syllabus for School Assistant Languages
                                                                   Paper-2 School Assistant -Languages
1.GK and Current Affairs
20 questions
20 marks

Sisu vikasam, Bhodhana sastram

30 questions
30 marks
3.language-2
15 questions
15 marks

language-1(aspirants choice)

100 questions
100 marks

Math's , Science, Social

15 questions
15 marks
Total
180 questions
180 marks
                                                                  Paper-2 School Assistant –English
GK and Current Affairs
20 questions
20 marks
Sisu vikasam, Bhodhana sastram
30 questions
30 marks
language-2 aspirants choice
15 questions
15 marks
language-1 English
100 questions
100 marks
Math's , Science, Social studies
15 questions
15 marks
Total
180 questions
180 marks
AP DSC 2014 New Syllabus for School Assistant –science
                                                                   Paper-2 School Assistant –science
1.GK and Current Affairs
20 questions
20 marks

Sisu vikasam, Bhodhana sastram

30 questions
30 marks
3.language-1
15 questions
15 marks

language-2 (English)

15 questions
15 marks

Math's-10 , Science -80, Social-10

100 questions
100 marks
 Total
 180 questions
 180 marks
                                                                 Paper-2 School Assistant –Social studies
GK and Current Affairs
20 questions
20 marks
Sisu vikasam, Bhodhana sastram
30 questions
30 marks
language-1 aspirants choice
15 questions
15 marks
language-2 English
15 questions
15 marks
Math's -10, Science-10, Social studies-80
100questions
100 marks
Total
180 questions
180 marks
 Important Dates :
Payment End Date : 21/01/2015
Application End Date :  22/01/2015