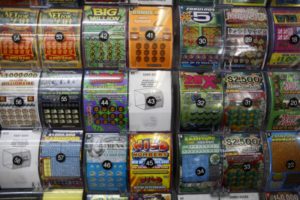 Man Makes Quick Stop At Store While Trip To Dentist, Ends Up Winning $750,000 In Lottery Jackpot
A man that made a quick stop at a store on his way to a dentist's appointment ended up winning $750,000 in the lottery jackpot.
Let's talk about destiny eh?
Larry Hales, the man that we are talking about, was heading to a dentist appointment in North Carolina when he decided to stop at a Han-Dee Hugo store in Garner to cash in a $20 winning scratch-off ticket.
Hales, who is from North Myrtle Beach, South Carolina, ended up buying more scratch-offs, which included a $10 Jumbo Bucks ticket.
Little did Hales know that the ticket would have his winnings.
Hales told the North Carolina Education Lottery Officials that he went on to travel to his appointment.
Recalling the moment, Hales said:
I actually put the tickets in my truck and went in for my dental appointment. After, I had to go to the bank to deposit some other money I had and I scratched them off while I was waiting in line at the drive-thru.
The ticket that he got for $10 had the winning combinations for the price of $750,000.
After knowing that he had won, he rushed back home to show to his wife that he had won the lottery!
Hales said that his wife was the one that came to his mind when he won the lottery and he just rushed back home.
He explained:
I had to show the tickets to her and ask her, 'Please read this to make sure I'm seeing this right'. I'll bet we look at those tickets a dozen times before we came up here.
Hales said that he and his wife will use the winnings to make a number of changes in their house and get some new things.
The couple wants to buy cars or a truck for their family!
Let's talk about luck!
What are your thoughts about the amazing win? Let us know what you think by leaving a comment below!