Nirav Modi's Rs. 100-Crore Mansion is being Demolished
Nirav Modi the Celebrity Jeweler, was accused of scamming the Punjab National Bank (PNB) of Rs. 13,000 Crores. His bungalow in Maharashtra is currently being demolished after the state declared it illegal. The luxurious bungalow that is set in the 33,00 sq. ft. plot was used in big parties by the owner.
Suryawanshi the Raigad Collector said that the mansion was built illegally and violated the CRZ norms, including the state's rules and regulations.
The local officials have now started the process of demolishing the mansion, the bungalow is spread over 70,000 sq. ft. and has a full driveway, with high metals fences and a big, tall security gate.
The mansion is near Kihhim Beach, which is 90km away from Mumbai, it was declared along with the other fifty-eight structures that violated the environmental norms.
A lot of Known celebrities, businessmen, and TV personalities own properties in this area.
The demolition is currently being done because of the order that was given by the Bombay High-Court, following the PIL (Public Interest Litigation) filed by Shamburaje Yuva Kranti the NGO back in 2009, he demanded the government to take actions against the illegal hotels, resorts, and bungalows that are violating the rules in Raigad.
Surendra Dhavale the NGO's state chief said that the government has now started to demolish all illegal constructions in the said area.
The Enforcement Directorate, who is currently in charge of investigating the businessman who has been hiding from the charges against him, approached the High-Court to discontinue the demolition of the bungalow as it is part of the properties that are attached by the agency after the PNB scam appeared.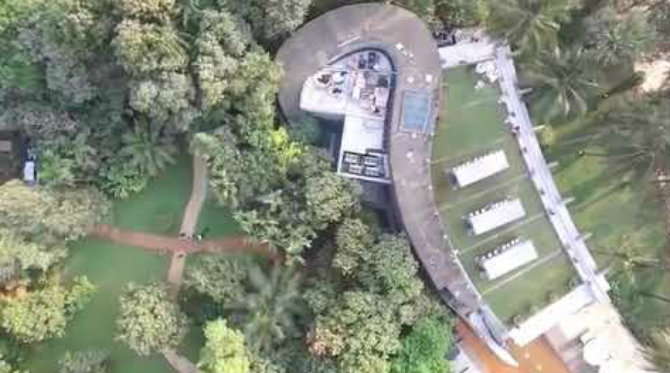 Later on, the agency gave the bungalow back to the officials after they removed all the valuable items that were present inside.
According to the Enforcement Directorate estimates the bungalow is said to be worth Rs.100 crores.
Mehul Choksi the uncle of Nirav Modi who is also accused in the same case (PNB Scam) also has a bungalow in the Alibaug area.
Nirav Modi is still hiding and is suspected to be living abroad, Mehul Choksi recently gave up his Indian Passport and citizenship to Antigua. This move was done by him to avoid all the cases that are charged against him in India.
Both Choksi and Modi are accused of using Punjab National Bank as a source of loans abroad, both left the country last year. Choksi said that he is going to the USA for medical purposes.