57 Police Officers Resign After 2 officers Suspended For Shoving 75-Year-Old Elderly Man
57 police officers from New York, United States of America, have resigned in support of 2 police officers that got suspended shoving a 75-year-old man.
A video that is viral on social media showed Martin Gugino, a 75-year-old man, approaching a line of police officers in Niagra Square before being shoved.
The man in the video fell and hit his head on the ground.
Blood could be seen pouring out of his ear after he hit the ground.
One police officer could be seen stopping to check on Gugino, however, he was urged to move on by other police officers.
The 75-year-old man was later taken to the hospital with severe head injuries.
It was originally reported that the man had tripped. But when the video went viral, you can see that he was pushed.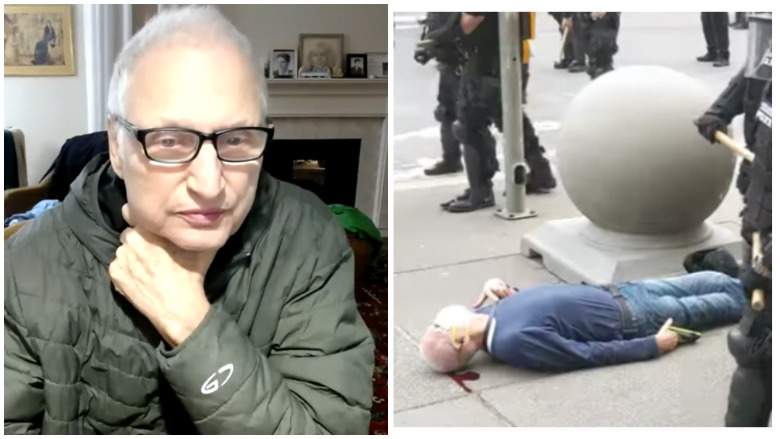 After the video was shared widely, Buffalo Police Commissioner Byron Lockwood suspended the two officers without pay.
But now 57 police officers have officially resigned from the emergency response unit in solidarity with the suspended officers.
Those 57 police officers are going to be employed by the Buffalo Police Department but will no longer serve on the emergency response unit.
John Evans, the president of the Buffalo Police Benevolent Association, said that the police had resigned because they believe the 2 officers got suspended were doing their job.
Evans said:
Our position is these officers were simply following orders from Deputy Police Commissioner Joseph Gramaglia to clear the square. It doesn't specify clear the square of men, 50 and under or 15 to 40. They were simply doing their job. I don't know how much contact was made. He did slip in my estimation. He fell backwards.
The Governor of New York, Andrew Cuomo, condemned the officers that got involved.
Cuomo said that the incident is unjustified and utterly disgraceful.
Gugino is involved with the Western New York Peace Center and Latin American Solidarity Committee.
Vicki Ross, the executive director of the center, said that Gugino is a very peaceable person.
Ross said:
I can assure you, Martin is a peaceable person. There is no way that he was doing anything to accost or hurt. He made a judgement to stay out after the curfew because he feels that our civil liberties are so in danger, which they most certainly are.
The incident happened during a protest for BLM (Black Lives Matter).
46-year-old George Floyd, a black man, was killed by the police on May 25, 2020, when a police officer was kneeled over his neck for over 8 minutes.
The man died at the scene.
The two Buffalo Police Officers, who have been identified as Aaron Torgalski, 39, and Robert McCabe, 32, have been charged with felony assault after the incident on Thursday night, June 4, during protests outside of City Hall.
Erie County district attorney, John J. Flynn, said:
We had two of our police officers who crossed the line. My job is to prosecute those who have violated the law, plain and simple. And I believe, and I'm alleging, that these two officers violated the law.
Let us know what you think about this by leaving a comment below!