Bes, The Heavily Tattooed Cat, Is Currently Missing
Kara Fight, a Russian Blogger, is worried after his heavily tattooed cat jumped out his car window and went missing.
Fight, whose real name is Rustam Shafiev, is asking help from everyone to help him find his tattooed Sphynx Cat.
Bes, the Sphynx cat, is a 6-year-old cat who has gang tattoos on his face, chest, and back.
Bes, which means demon, jumped out of the car's window when Kara was visiting the Pervomaisky Village, which is near Yekaterinburg.
It is feared that Bes may have accidentally traveled into a nearby forest, which is the home of wolves, bears, wolverines, lynx, and sables.
35-year-old Fight said he has been looking for his cat for 5 days.
Rustam explained, "He jumped out of the window, disappeared into the darkness and tall grass."
He added, "I searched for it myself everywhere, I called for the cat, it was useless. I'm very worried. I'm not eating, not sleeping."
Before Bes went missing, Rustom has been criticized for tattooing his pet cat.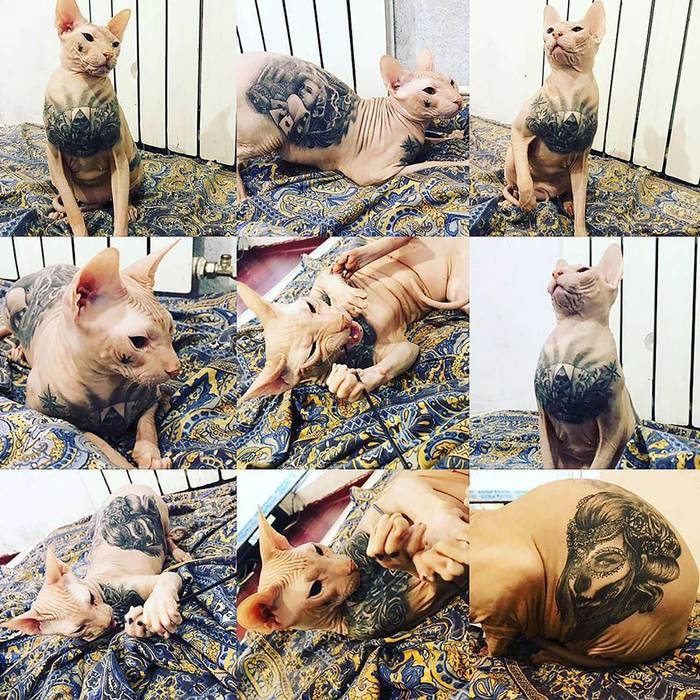 Elizaveta Skorynina, an animal rights activist, said, "A person can choose to endure the pain in order to wear this 'beauty' later on in life, but the animal is not given the right to choose."
Elizaveta added, "This is purely desire of the owner. It is impossible to guess what pain threshold a cat finds impossible."
Elizaveta continued, "Under general anaesthetic an animal can suffer side effects. Using 'muscle relaxants', the pet does not move but at the same time it feels and understands everything. I see nothing positive in such an experience."
Most of the people criticized the acts of Rustam as the cat had to endure a lot of pain.