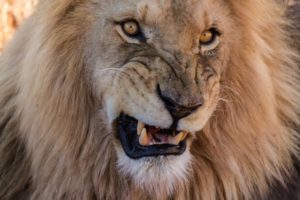 Caretaker Of Religious Place Unleashed Pet Lion On Electrician Who Was Asking For His Salary
Lahore, Pakistan: A caretaker of a religious place in Lahore decided to unleash his pet lion on an electrician, who was asking for his salary.
According to reports, the incident happened on September 9, 2019, but a complaint against the caretaker was registered on October 11, 2019.
A case of attempted murder has been registered against the care-taker of the animal.
Mohammed Rafique, the electrician, did not file a complaint against Ali Raza, the caretaker of the congregation hall Sada-e-Imam Hussain, because he was assured that he will be treated for the injuries he received in the lion attack.
Rafique claims Raza promised that he would give him money to stay quiet.
But when Raza didn't show up to pay for his medical bills and to pay the compensation that he promised, Rafique went to the police and asked for help.
Preliminary investigations revealed that Raza hired Rafique to work on a number of small jobs at the congregation hall Sada-e-Imam Hussain.
But when Rafique asked Raza to pay the bill, he was repeatedly told to come later.
Raza reportedly kept delaying the payment, and on September 9, 2019, he unleashed his pet lion on him.
Mohammad Rafique was severely injured from the attack. He reportedly received deep wounds on his face and arms.
When Rafique was being attacked, he cried out for help and passers-by and locals rescued him from the lion.
A case against Ali Raza was registered under the section 324 of the Pakistan Penal Code.