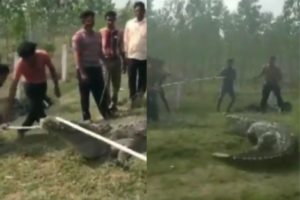 Caught On Cam: Massive 12-Foot Crocodile Rescued From A Village In Vadodara
Vadodara: A 12-foot-long crocodile accidentally went into a village in India, and was rescued by authorities on December 1, 2019.
The massive crocodile was rescued by the Forest Department Officials.
According to reports, the rescue operation went on for over 5 hours.
It is believed that the 12-foot-long crocodile came from the Narmada Canal Solar Plant Station, which is located in the Raval Village.
Villagers use the canal to water their farms.
Hemant Wadhwana, a wildlife rescuer, said an engineer working for the Narmada Canal Solar Plant Station called them to inform that there was a 12-feet long crocodile in the Raval Village.
Hemant added, "It took us five-six hours to rescue the crocodile."
A video of the crocodile also went viral on Twitter after it was shared by a news agency.
Watch the full video of the incident below:
#WATCH Gujarat: A 12-feet-long crocodile which had ventured out into fields in Raval village of Vadodara, yesterday, was rescued and handed over to forest department. pic.twitter.com/TOiVuqjXFv

— ANI (@ANI) December 1, 2019
The reptile was rescued by the authorities and was released in a nearby lake, which is home to a number of crocodiles.
This is the third time this year that a crocodile has been spotted near the Raval Village in Vadodara this year.
No villager or rescuer was injured during the rescue operation.