Massive 14ft Crocodile Captured, Beheaded, And Buried By Indonesian Villagers After It Terrorized Locals
A 14ft massive demon crocodile was captured, beheaded, and buried by Indonesian villagers after it reportedly terrorized locals.
The massive 50-year-old beast reportedly attacked a number of people in the area, and as a result, the animal was hunted down.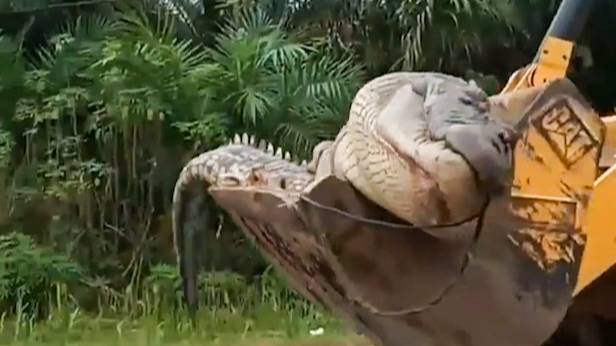 Residents of the Bangka Belitung Islands tracked down the beast and trapped it in nets that were placed in the Kayubesi River on the evening of Monday.
The nets had sharp blades inside it.
Villagers decided to bury the body and head separately, hoping that the animal will not come back to haunt them.
A village official said:
The body and head must be buried separately because this is a demon crocodile. Before cutting it off, there is also a special ritual.
They had also refused to hand the corpse over to conservationists believing that the village would be doomed if the reptile was to get transferred to a different place.
Resources Conservation Agency said that authorities tried to negotiate with local leaders. However, the locals were against relocating the wild animal.
They said the animal will stay there.
Septian Garo, the head of Bangka Belitung Natural, a local conservation agency, said:
There was a belief that the crocodile should not be removed from the village because it is a demon. They [referred to] local beliefs that hampered the [animal's] relocation.
Septian explained how the entire neighborhood would be doomed if the crocodile would be brought to a different place.
It is said that the crocodile was around 50 years old, it had no teeth.
The 500kg massive crocodile was carried by a bulldozer.