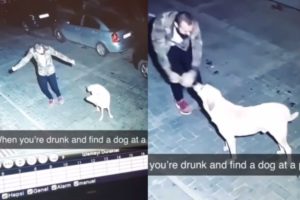 Hilarious Video Shows Man Dancing With Stray Dog In The Middle Of The Night
Metin Can Sener from Turkey was walking alone in the early hours earlier this year when he got to share an incredible moment with a stray dog.
As Sener was approaching, the puppy started to wag his tail.
Sener knew the dog, but he only came across the dog during the morning. The dog reportedly hangs out at the local coffee shop.
Sener said the stray dog often comes to the coffee shop.
Şener said, "I always see him by the café."
One day, when Sener was going back home, he got to face the dog and it actually helped him get to know the dog better.
Sokak köpeği görünce severken kafayı yiyorum 🙁 pic.twitter.com/7de40imwej

— II. Supermet (@bendemistims) October 12, 2019
Upon meeting the pooch, they started dancing.
Sener said they became good friends.
Talking about if he could bring the dog home, Sener said, "I already have four dogs, so I couldn't take him home."
Sener said the stray dog is well fed and is well known in the area.
When the incident happened, Sener didn't know each other that well, but luckily their amazing encounter was caught on CCTV.
The owner of the Café was checking his CCTV footage when he saw Sener dancing with the dog.
He posted it on social media and it viral right away.
Sener said, "I was surprised to see it had been caught on camera. I thought it was so much fun."
He added, "I always like to dance with animals like this. I love animals even more than people."