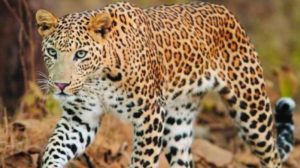 Leopard Kills 5-Year-Old Girl In Maharashtra While She Was Playing Outside Their House
Chandrapur, Maharashtra: A 5-year-old girl was mauled to death by a leopard when she was playing outside her house.
According to reports, the girl, who has been identified as Lavanya Dandekar, was playing outside in the staff colony area when the leopard attacked and dragged her into the bushes.
She was found dead afterward.
The incident reportedly happened on the evening of Wednesday.
The father of Lavanya Dandekar is a CISF soldier that is currently working at the Chandrapur Super Thermal Power Station.
Lavanya was playing outside with other kids when a leopard came, pounced, and dragged the kid into the bushes.
She was found in the forest some distance away.
Locals rushed her to a hospital, where she was declared dead.
Rahul Karekar, Forest Officer of Chandrapur Range, said the forest department has installed a cage and a number of camera traps to capture the leopard.