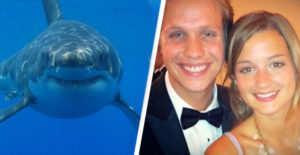 Pregnant Florida Woman Dives Straight Into The Ocean To Save Husband During Shark Attack
A pregnant woman jumped straight into the ocean so she could save her husband during a shark attack so she could rescue him.
The incident happened in Florida, India.
Margot Dukes-Eddy, the hero woman, was on a boat with Andrew Eddy, her husband, and other members of their family when the incident happened on the morning of September 20, 2020, at the Sombrero Reef in the Middle Keys, Florida.
A large shark, which was likely a bull shark, latched onto the shoulder of Andrew after the 30-year-old got into the water.
Margot, who is pregnant, leaped off the boat to her husband and helped her right away.
She did not even think about herself and the baby that she is carrying with her.
Deputy Christopher Aguanno, who is working at the Monroe County Sheriff's Office, wrote in his report:
Dukes saw the shark's dorsal fin and then blood filling the water. Dukes, without hesitation, dove into the water and pulled Eddy to the safety of the boat.
Thanks to the quick actions of his wife, Andrew was pulled out of the water before he could have been mauled to death by the shark.
The city's fire and rescue team were waiting for him after the incident.
An air ambulance took him to the Ryder Trauma Center at the Jackson Memorial Hospital in Miami, Florida.
The shoulder injury of the 30-year-old man is "severe" said the eyewitnesses.
It was found out that Andrew was attacked immediately after he entered the waters.
Other family members of the family had jumped into the water before Andrew went in.
Nobody was fishing or putting chum in the water when the attack happened, said the office of the Sheriff.
The shark that attacked Andrew was around 8 to 10 feet.
People that were in the area earlier said that they saw a bull shark in the area.
The current condition of Andrew is unknown.
Our thoughts and prayers are with the family of the victim, may they recover fast from the injuries that they sustained.