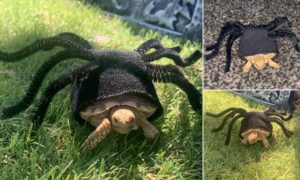 Tortontula? Owner Creates Scary Halloween Costume For Her Pet Tortoise
A devoted pet owner from California decided to bring her pet tortoise along her for this years' Halloween.
Maya Rios, the owner of the tortoise, will decorate her pet tortoise with an adorable spider costume for this years' Halloween.
Rios, who lives in Chula Vista, California, joked about the process and jokingly said that she may have come up with a cure for Arachnophobia.
The costume for her tortoise is made out of a sock and pipe cleaners sewed on the sock.
The sock is cut on both ends so her 2-month-old sulcata tortoise can poke its leg through it.
Frank, the sulcata tortoise, loves the costume and even walks around the house, trying to prepare himself to scare out kids.
Images of Frank were shared by Maya and you can see the tortoise taking a stroll in the grass in their garden.