Disabled 13-Year-Old Who Gave Up On Live Receives 3000 Birthday Cards From Strangers
A 13-year-old boy who gave up on his life gets 3000 well-wishing cards for his birthday from total strangers who wanted to cheer him up.
13-year-old Rhys from Bolton, Lancashire, who is diagnosed with epidermolysis bullosa, a life-limiting condition, gave up on life after having blistering pain and sores all over his body.
The conditions of his skin got so severe that his fingers started to fuse together.
Tanya, the mother of Rhys, got unhappy after finding out how her son feels like about life.
Instead of giving up, the dedicated mother decided to help cheer his son up and show him how good life can be if you find meaning.
Ahead of the 14th birthday of Rhys, the mother appealed and asked people to send cards to his son with the hopes of cheering him up.
The response her appeal got was so overwhelming that over 3,000 cards were sent to their home.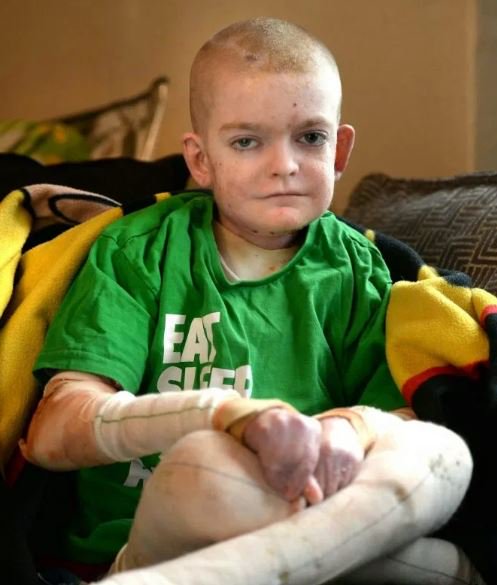 Tanya, the mother of Rhys, said his son and his son's best-friend love opening and reading the cards and the letters that were sent to him.
The mother said her son has well-wishers from all over the world.
Tanya said, "It's just been crazy. A post van came today with stuff for Rhys, it's just been mad. I've had thousands of messages on Facebook , people turning up at the door. I don't know whether I'm coming or going, but Rhys is in his element. He's at home opening the cards with his best friend. He is absolutely loving it."
Tanya added, "He is opening each card and reading it, and he's got his friend opening them too. He is taking his time with each one which is why it is taking so long. He's just so overwhelmed with it."
Not only did the little lad receive a number of messages and letters, organizations have reached out to Tanya and have told the mum about how they can help.
Despite being a Liverpool fan, the Bolton Wanderers have asked Rhys to act as their mascot.
Tanya said, "It's gone world wide. He's been on telly in Chile. He got a card from Qatar today, and loads from America. It's just gone everywhere. I just want to say thank you. That's all I can really say at the moment, I'm so overwhelmed by it all."
Tanya added, "He's sitting at home opening cards with his best friend and he is really, really happy."