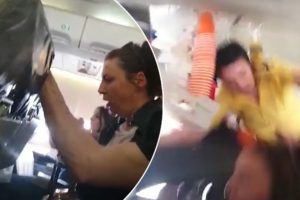 Extreme Turbulence Sends Flight Attendant Crashing Into The Ceiling And Leaving Passengers Wet With Juice
If you are afraid of watching scary airplane videos, then it would be best for you if you just go away now.
Earlier, a video went viral that showed a flight attendant crashing into the ceiling of the plane after experiencing severe turbulence.
The flight turbulence also left some if its passengers wet.
The incident happened during a flight of the ALK Airlines from Kosovo was traveling to Switzerland.
The video shows the flight attendant of the ALK Airlines fly up and hit the ceiling when the plane went through severe turbulence and left some of the passengers dripping wet with juice and water.
A woman was also seen praying after the turbulence.
All passengers were scared during the flight. The pilot also did his best to calm them down by using the intercom.
According to a passenger, seats were torn up from the floor of the plane, passengers had blood coming out from their wounds, and seatbelts were broken.
The video of the incident was taken by Mirjeta Basha.
Basha said that the turbulence started just 30 minutes after the plane took off. She added that it only lasted for 5 minutes.
During an interview with Minuten, Mijeta Basha said, "People started screaming and crying. A flight attendant slammed her trolley on the ceiling. Cups flew around, some were scalded by hot water."
The husband of Basha was also rushed to a hospital in Basel after it touched down, he sustained burn injuries.
Reports suggest that 9 passengers were also treated by a doctor.
According to the passengers of the plane, the cabin crew showed professionalism even after going through such a mess.
The flight attendant told the passengers to stay calm and "do not be afraid and everything will pass again."