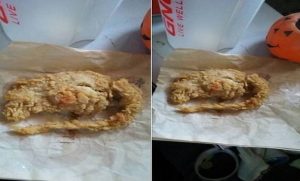 After Worms, KFC Serves Fried Rat Instead of Chicken Wings – Picture Goes Viral On Social Media
Kentucky Fried Chicken (KFC) was strolled across the social media on Tuesday after a man in the US claimed that he found a deep fried rat in his takeaway. This was not the first time that KFC is involving in dirty food controversy. Previously also we showed you how KFC served dirty chicken to its customer and again it has been dragged into the same controversy.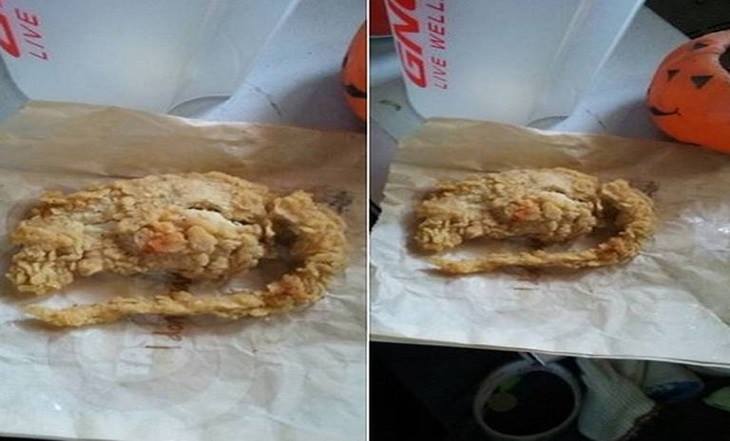 This time in California, Devorise Dixon went to KFC and ordered for Chicken Wings. And, when the order came up and he opened it, there was no clue of Wings but a tail. Devorise Dixon said he spotted a 'tail' in a strangely shaped chicken breast which he purchased from the California outlet of the fast food chain. He said when he made a closer inspection; it turned out to be a fried rat. The disturbed customer has also posted the pictures on Face book which sparked off a wide-spread debate.
Watch the video below:
https://www.youtube.com/watch?v=6LDHdyUw7t0
Dixon also claimed that he "WENT BACK TO KFC YESTERDAY AND SPOKE TO THE MANAGER SHE SAID IT IS A RAT AND APOLOGIZED, IT'S TIME FOR A LAWYER!!! BE SAFE DON'T EAT FAST FOOD!!!"
His Facebook post reads: "It sent deep chills throughout my whole body! I've been feeling weird ever since. It's time for a lawyer, be safe don't eat fast food!"
Fast Food Chain in repeating the mistake again and again, whether it is in India or the US. The level of hygiene that should be maintained or advertised is far from better. Though the Manager accepted their fault and apologized for the blunder, yet no strict action was taken. I guess we are left with nothing to eat.
Do you guys have any idea which food is fit to eat now? However, The Mirror, a UK based newspaper quoted KFC officials as saying an investigation into the issue found no evidence to support the customers claims. Similar incidents have taken place in past where customers found dead worms in chicken but no actions were taken.