Russian Man With Knife In Back Walks Out Of Hospital To Smoke A Cigarette
If you love something, you would do anything for it, and a man from Russia is proof of that.
34-year-old Vladimir was stabbed in his back and he was rushed to the hospital, but when his love for cigarettes arose, the man literally walked out of the hospital to smoke a cigarette.
Vladimir was at a hospital in Kazan, Russia, after getting stabbed in a drunken fight.
The exact details of the injuries are not know, but horrifically the knife was plunged so deep that only the handle could be seen.
The staff of the hospital were undressing him so they could treat the wound, but Vladimir had his cravings for cigarettes too much.
Vladimir got up and went out of the hospital to smoke a cigarette.
The nurses followed him and asked where he was going.
The nurses asked "are you mad?" and said, "It's winter outside. Come back."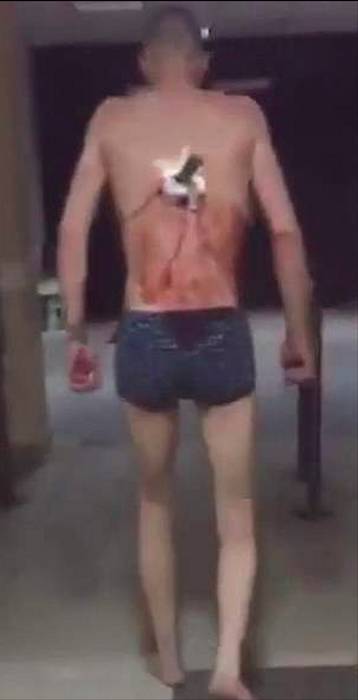 Vladimir had to grip a railing for support at one point as the pain was too much for him.
But even if the pain was too much, Vladimir was determined to finish his cigarette.
To try and get his cravings satisfied, Vladimir embraced the -10C temperature outside the hospital and smoked the cigarette wearing nothing but his underwear.
The cold temperature was actually good for his wound as the cold numbs wounds and slows the circulation of the blood.
Vladimir didn't really have any cigarettes with him, but he went out hoping that another smoker would give him a cigarette.
According to reports, he had to be persuaded to come back inside the hospital after the doctors at the hospital said he was risking his life.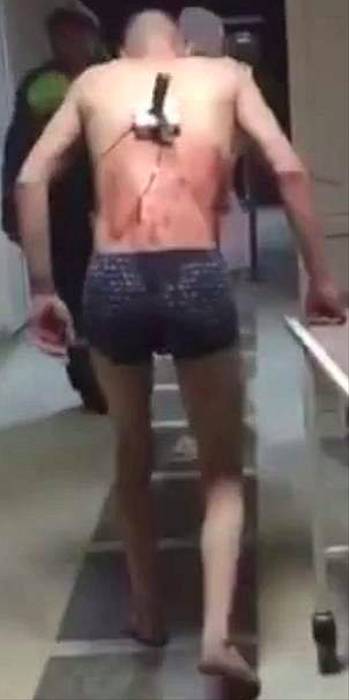 A man in the video can be heard saying, "Young man, you are going to die now. Let's go, have an injection and you go home."
A nurse encouraged him to get back inside by saying, "Yes, we'll make one injection and let you go home. Come on, come with me. Go, go. Keep going. Go and lie down."
A spokesperson from the regional health authority in Tatarstan reportedly confirmed that Vladimir was stabbed.
The spokesperson also confirmed that the man underwent surgery to remove the knife off his back.
The man is reportedly in a stable condition and is recovering from the surgery.