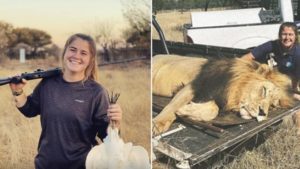 21-Year-Old Woman Mauled To Death By Lions While Working In South Africa
A 21-year-old woman was mauled to death by lions while working at a game reserve in South Africa.
Her images have been shared for the first time by the authorities.
21-year-old Swans van Wyke, the woman, was set upon by the animals while she was performing her daily duties in the game reserve enclosure on Thursday last week.
The paramedics were called to the reserve.
According to South African authorities, the woman was found collapsed by the gate of the cage with devastating injuries.
She was found covered in blood with deep bite and claw wounds.
She was later pronounced dead at the scene.
The police have launched an investigation at the game reserve at Bela-Bela in Limpopo, South Africa.
An inquest has been opened for the incident.
Colonel Moatshe Ngoepe, the spokesperson of the South African Police, released a statement about the incident.
Colonel Ngoepe said, "Our initial investigations show she was performing her duties when attacked by an unknown number of lions."
The spokesperson added, "The circumstances leading to this tragic incident are still unknown at this stage."
It is not known at this stage how many lions attacked the 21-year-old woman.
It is being determined if the lions in the cage, who were involved in the incident, will be shot.
The police said it was a decision for the game lodge and the authorities that monitor game lodges and reserves.
The lodge staff that saw the entire incident will be offered counseling services and time off to recover.
Since the fatal incident, the game lodge has been closed to the public.