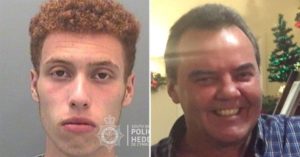 4 Years In Jail: 16-Year-Old Boy Jailed For Killing Pub Landlord With Single Punch
A 16-year-old boy was sentenced to spend 4 years in jail for killing a pub landlord with a vicious single punch.
Drew Jones, the 16-year-old, was in a rowdy gang, located outside Smiths Arms in Neath, South Wales when he punched the 58-year-old pub landlord.
According to reports, 58-year-old Mark Winchcombe asked the men to move on, but instead, the 16-year-old punched him on his head.
The 58-year-old reportedly died of a brain injury.
The 16-year-old fled the scene and sent 2 messages on Snapchat to his friends about the incident.
The incident happened in Neath, South Wales.
One of the messages that he sent said: "Oops".
The second one said, "Tell them not to say anything… boys you shouldn't say anything."
The man was convicted of manslaughter at Swansea crown court.
Cabbie Stephen Davies told the jurors: "I walked around the back of my taxi and put myself between Mark and the group. I put my arms out and pushed them backwards to try and disperse them and defuse the situation."
According to reports, the men were pushing the 58-year-old so he was pushing them back.
The 16-year-old man then threw a punch, which reportedly made a sickening noise.
The sound was compared to the sound of hitting flesh, which you would hear in movies.
Stephen added, "Like in the Rocky films when he was in a fridge, the sound of a fist hitting a bag of beef."
Christine, the widow of Mark, said the death of her husband has destroyed and has changed the lives of their family forever.
Christine added, "Mark was a much-loved man, he was always on hand to help anybody. That's what Mark was doing on that fateful night and he paid the ultimate price with his life."
Our thoughts and prayers are with the family of the deceased.
May your rest in peace, Mark.