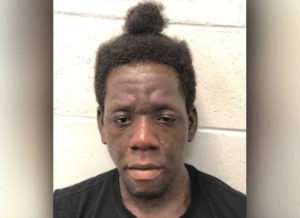 Florida Man Punches And Spits On 70-Year-Old Man Because He Was Asked To Practice Social Distancing
A black man in Florida attacked and spat on a 70-year-old man because he was asked to practice social distancing in a queue.
Rovester Ingram, the accused, entered the mini supermarket without wearing a mask and was immediately confronted by an unnamed 70-year-old man.
He was asked to practice social distancing.
After the confrontation inside, Ingram followed the man outside and started to him in the car park.
The elderly man rushed back into the store but was stopped by Ingram.
He was shoved to the floor and was dragged by his hair in the horrible attack.
Before walking away, Ingram spat on the victim and kicked him in the head before he walked away.
The entire incident was caught on CCTV.
The man was found by the authorities lying outside the petrol station bleeding.
The victim was rushed to a hospital and was found to have broken bones and injuries on his face and body.
CCTV footage helped the authorities identify Ingram.
He was arrested from his house on Sunday 13, 2020.
Ingram was charged with aggravated battery on a person over 64 and kidnapping.
Our thoughts and prayers are with the elderly victim, may he recover fast from his horrible injuries.