Brazilian Man Shoots Homeless Woman To Death For Asking 23 Cents
Warning: The video below is unsuitable for young audiences, parental guidance is advised!
A CCTV footage revealed a moment where a homeless woman was relentlessly shot dead by a man after she asked 23 cents from him.
Zilda Henrique dos Santos Leandro, the victim, could be seen approaching a man on Rua Barao de Amazonas in Central Rio De Janeiro in the video.
She was shot after she asked for money from the man.
Reports suggest Zilda asked 1 real from the one.
The man could be seen walking away from 31-year-old Zilda, but the homeless woman follows him.
Seconds into the video, Aderbal Ramos, the shooter, stops, pulls a handgun from his waistband and shot Zilda twice.
She could be seen trying to run away from him.
The video shows Zilda falling in the middle of the road.
Ramos, the shooter, could be seen tucking the gun back into his waistband before walking away from the scene.
A local could be seen rushing to Zilda as she was lying on the floor.
Zilda was rushed to the Azevedo Lima State Hospital in Rio, she succumbed to her injuries.
Doctors at the hospital pronounced her dead when she arrived at the hospital.
The incident reportedly happened on November 16, 2019.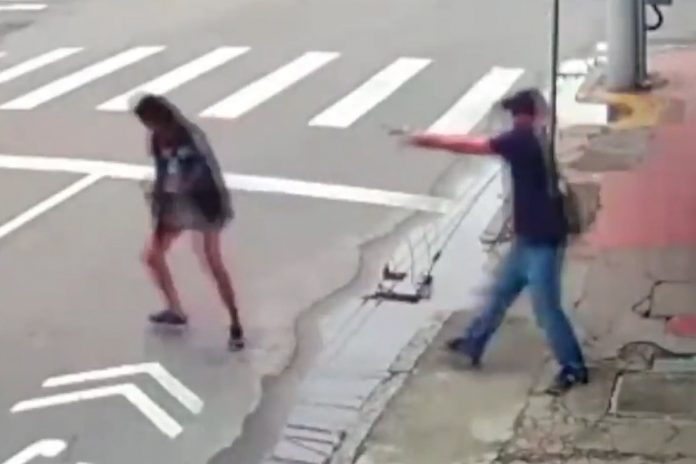 The incident comes after President Bolsonaro passed a law that allows people to carry weapons in Brazil.
Earlier this year, Jair Bolsonaro, the president of Brazil, signed a decree that allowed truckers, politicians, and civilians to carry weapons without having to prove why they needed them.
Brazil currently has one of the highest crime rates in the world.
Our thoughts and prayers are with Zilda and her family.
May her soul rest in peace.